Pro course - X-Marathon 2011
Pro course is designed for those looking for real challenge.

This will be quite a serious distance for ultimate adventure racers. If you looking forward to your first long adventure race, dreaming about real expedition style events this is a good step to start from. Take a deep breath and feel the sense of adventure which this region offers us. 

Expecting leading time will be about 14 hours therefore there is enough time for relatively inexperienced teams to finish the whole course. Distance will be planned with event center is approximately in the middle to give teams opportunity for comfortable refreshment. 

Navigation will be more demanding in this course and good altitude gains and drops do not allow you to get bored. 

Along with traditional kayaking, trekking and mountain biking sections we prepare some adventure tasks to diversify the course.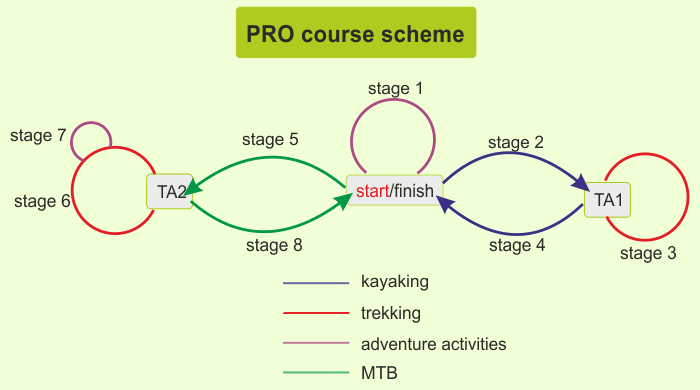 Approximate timing for the course
| | | | |
| --- | --- | --- | --- |
|  Stage | Fast time |  Slow time |  Description |
|  Adventure rogaine |  15 | 30  |  Mix of trekking and adventure activities |
|  TA0 |  1 |  6 |  Access to kayaking equipment |
|  Kayaking |  90 |  180 |  Kayaking stage in Nillahcootie lake |
|  TA1 |  3 |  10 |  Access to trekking equipment transported by organisers |
|  Trekking |  180 |  320 |  Rough trekking with relatively simple navigation but quite steep hills |
|  TA1 |  3 |  10 |  Return to boats. Trekking equipment can be left in TA |
|  Kayaking |  20 |  40 |  Short kayaking stage back to TA0 |
|  TA0 |  3 |  10 |  Access to MTB equipment |
|  Mountain bike orienteering, Road book |  320 | 490 |  Mountain bike orienteering stage with part of road book. Steep uphills and downhills. MTB computer is strongly recommended for this stage. |
|  TA2 |  3 |  10 |  Teams have access to their trekking equipment, transported to TA by organisers |
|  Trekking, adventure activity |  120 |  200 |  Rogaining, thick bush, relatively flat area with some roads. |
|  TA2 |  3 |  10 |  Access to MTB, bags for trekking equipment |
|  Mountain bike orienteering |  70 |  120 |  Mountain bike orienteering back to start/finish |
|  Total |  831 |  1436 |   |