Adventure
Junkie
8hr
Race
@
Nagambie!!!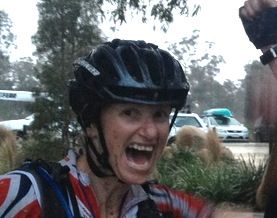 The countdown is on, 2 weeks to go, perfect timing to have a good hit out in one of Adventure Junkie's fantastic Victorian events, 8hrs of fun adventure in Nagambie!!!
Mike and Angus teamed up together and with Paul away skiing and Phlip out injured, I had a new partner in crime in Sophie. With my weakness being kayaking and Sophie being a gun Kayaker, I was quite excited to hit the start line.
The race started with a deep water start in the kayaks, the conditions were fairly rough, we all started well. Big decision for kayak leg was to portage and run to 1st CP or kayak a significantly further distance and stay in the kayak, we all did the portage option, which ended up including walking through a swamp that the boys nearly went under in and then a swim out to the CP. What a way to introduce Sophie to Adventure Racing,
our choice of wearing out jackets to keep our clothes dry underneath was now looking a little pointless. The girls opted to hang their map on a dry tree before swimming, the boys maps went with them for a little swim which caused them a few jigsaw troubles later in the day. The boys blitzed the kayak leg and Sophie's kayaking experience was fantastic, getting the girls off to a fantastic start.
The mountain bike was next and the wind was nasty, one point to collect before hitting the Roadbook which was mainly on flat open firetrails with not too many turns.........once on the Roadbook we all cruised our way through this. Lesson learn't by all on this leg was read all instructions before the start of the race, more so for the boys who were a little confused with the starting point of the Roadbook, which cost them significant time.
Onto the trek, with fairly open bush and tracks going here, there and everywhere, some mapped and some not..........we all decided that bearing/distances was the best option and more fun. Ten CP's were collected on knolls, saddles, creek junctions and head of the valleys. I personally found this trek challenging, but we had a lucky day and managed to navigate around without walking in circles, it was a great team effort with Sophie embracing the adventure. The boys decided to do a few extra km's on the trek, why not get some extra training while your out in the bush, perfect XPD training, they weren't alone, many teams got themselves a little directionally challenged on the trek leg.

Originaly this race report was published at team Pharos page (Thank you Karina!!!)