Wenzhou
Adventure
Challenge,
April-14,
China
Brief facts about a race - Wengzhou Adventure Challenge, one of the most prestigious adventure races in China, 4-day stage event, with daily distances around 70-90km. Prize money $150000, distributed among first 12 teams of four. 30 teams, about 22-23 foreign ones and quite strong local Chinese teams is the rest.
Some facts about the team Adventure Junkie - Serge Kurov & Maria Plyshechko, Adventure Junkie full-time crew from Melbourne, VIC; Alex Hunt from Hobart, TAS; Sam Stedman from Townsville, QLD. We have been racing together before for a few times, we working great as a team and our mind is set on the result. It is easy, when goals are clear and the same for everyone in the team.
Day 1
Alex: Day 1 began with an 8k Inline skate, which was definitely one of the strangest starts to a race I have ever experienced.
Being too ashamed to go for a roller skate prior to arriving in China, the team definitely helped me through this leg, with Serge and Maria being experienced hands (or legs) and towing me through the streets at with average speeds under 3 minute kilometres! It turns out inline skating is taken a little more seriously in Europe a lot of skiers use it as cross training in the summer months.
We hit the boats for a 25k paddle through the canals of Wenzhou, a waterway system that I thought was impossibly polluted, unfortunately I was about to realise a whole new level of water quality on day 2! We paddled well as a team, although Serge and Sam had a few steering issues! Coming into TA just behind two other Australian teams Moxie gear and Mountain Designs.
From here we had 11k's of road climbing on the bikes to the start of the run. Serge was having a hard time of it with Sam and I working together to get both him and Maria to the top in a good position. To the finish there was a 15k navigation based trek, with a rope skill section towards the end of the leg. This was hot and hard and as a team we were all struggling, making a few errors on the Nav and dropping from about tenth to 17th! At the rope skills the team split in two, Maria and I doing and abseil with Serge and Sam a flying fox.
Day 2
Serge: Second day looked as a normal day – 16km trail run, followed by 35 km kayak and around 50km mtb, finishing with abseil in between two tall (may be 40 stores) towers in the city.
We took off quite well, and showed a solid climbing ability overtaking a few teams on the way. We started in order from the first day with 1 minute between teams, so we were 17 minutes off the lead at the start. Downstairs running kicked everything off us, followed by long flat 12k run. It was pretty hard for me, but Alex and Sam kept pushing and towing Maria strongly and we managed to pass Swedish team Peak Performance just before kayaking TA.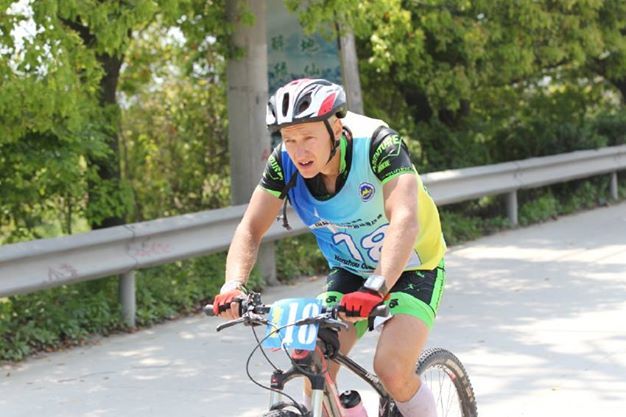 35km is a long way, especially if you paddle upstream. Yes, we started to paddle upstream against quite strong current, and looking at our progress my first thought was "Wow, not enough food, this is not 3-4 hour paddle, it will be more like 5-6". Luckily the river was tidal, and current turned the other way in about half an hour and started pushing us stronger and stronger towards TA. The river was extremely polluted, and usually enjoyable activity widely associated with "sunny ocean beach and nice kayak sliding trough crystal clear water" turned to be pushing our crafts through wastewater river over 100m wide. Main challenge was to eat, drink and keep clear of splashes. It was especially challenging closer to the end, when river turned to be over kilometer wide and waves were literally washing front paddler face (that was me and Maria!!!).
Everything comes to its end, and this stage did as well. We landed at knee-deep mud bank, thanks to organisers they put some sledges on top of it so we did not draw in the mud, however, Sam lost his shoe twice, which was a little bit funny. We quickly transited into a long and tough bike, and rode off, followed by Peak Performance. After first day we felt better and had a good expectations we were much higher in rankings, as Peak Performance finished first day third and we still keeping up with them. About 10km of rolling sealed road ended with step 4wd trek going up into sky.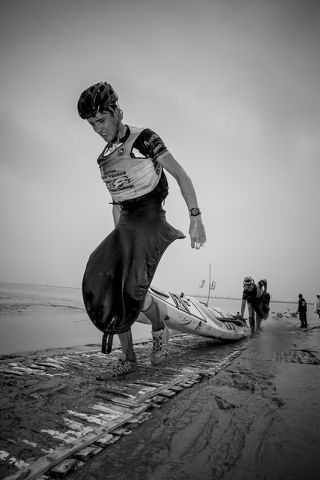 We pushed forward, Peak Performance passed us on this uphill. I did not feel like I can contribute to team speed much, and left it all to Alex and Sam. Ride was quite technical, and we managed to keep solid pace and did not drop any more places. Me and Sam were to do the abseil, we quickly dismounted at TA and went into approximately 40 storey staircase. We run it up, and to our relief there was a queue, we timed in and had some time to relax.
We came to the edge, clicked in. Well, we both used ATC for first time in a race, I was actually using it for first time. I've obviously understood well the working principle, however there are always nuances. Unlike figure 8, where you just need to lift long rope up and it will quickly slide down, ATC require you actually throwing this rope into device, if you want to descent fast. We both knew it all at the end of descent, but it took us a minute to learn... It's very frustrating, when you loose time just because you was lazy to spend half an hour at home to build up your skills. Well done team, we are at 9th position today, and moved on general classification up a few spots!
Day 3
Serge: Of course, my day is the third to talk about. Well, you will know why at the end. Quickly looking back through the race, I'd say that first day was the least successful for the team, and also hardest for me, all other days were pretty solid for the team, and I was able to contribute to the team speed more through the race. For me the first day was the hardest, the second was incredibly polluted and I was only able to maintain the team speed not contributing anything into it, the third day was long and hard, however , I felt way better, and was feeling really strong on the fourth day. So let see what had happened on the third day.
We've started with short 2km run to small authentic village, where we had to complete 3km orienteering leg. By the rules, we were allowed to split in orienteering, and after talking through the strategy before the race, we split into two groups, with me and Sam and other one of Maria and Alex. I ran to the maps first, to take them and spit the course. Once the team was there, courses were ready and marked, and we quickly went to the orienteering. It was successful performance, we did not waste any time and went straight through all the checkpoints. As a result we finished this leg very close to the leading teams, and went to the next 13 km run.
We were racing against Czech team, who was ahead of us after our unsuccessful first day. Even though we gained some time on them over the day 2, we were still about 5 minutes behind. A first part of the run was flat, and I just had to hang at the back, while Sam and Alex did all the job. When we came to the hills I saw Czechs just in front and felt like it's time to put a hammer down. I went into the lead towing Maria and we bypassed Czech team on the long staircase. We maintained a fair push to the transition, where ocean kayaking was awaiting us to our pleasure.
It was quite unfortunate for us as a team, that ocean kayaking stage was cancelled. I'd rather cancel day 2 'eco-sighting kayak', however organizers took out our split times and seated us in the bus. Ocean was looking awesome – but not all team possess enough qualification to paddle in those conditions. Fair enough, we organize races too, and sometimes have to come up with hard decisions in favor of safety. Bus ride was nearly two hours, as the road wind around very rugged coastline, and I reckon paddling 16km straight line would be quicker then busriding.
We went to TA with split start, organizer queued us up based on last TA ranking. We were somewhere 12-13th , well ahead of Czechs and Red Bull-2 , strong Chinese teams we always fighting with through Chinese races. We were sure Red Bull would caught us up, they are very strong in the hills, and that what was waiting for us ahead – just one massive hill with something around 1000m ascent over 10km. We started off well, and kept riding up and up. Alex showed incredible strength on the last 200m vertical ascent, where road went to rough rocky 4wd track and incline was something around 20%. Me and Sam were struggling just to ride it up, and I think that was about my uphill limit, while Alex kept riding with Maria on tow, and managed to hit top of the hill without walking. That was amazing effort and I still can't believe how strong he is.
Well the rest of the ride was just rolling hills, they were pretty tough given the intensity we were riding, but we were pleased Red Bull-2 did not catch us up.

Well the rest of the ride was just rolling hills, they were pretty tough given the intensity we were riding, but we were pleased Red Bull-2 did not catch us up. The last leg was 'easy' 2km run, with the climbing wall at the end. We ran flat out this 2km through the city, which turned out to be nearly 4.5 k at the end. You would imagine at the end of the long day, you running as it is 2km, but it is 4? Well, the worst was 17 instead of 3 a year ago, so I would not complain.
The wall turned out to be approximately 3.5m high vertical wall covered with slippery banner material. No hitches there, just nothing you could hang on. Some other teams were smarter and took some climbing slings, so when first two guys lifted up, the rest could climb on those slings, but we did not as believed rules were the same as in other Chinese races. We launched Sam up first, then me and Maria lifted Alex up. Then I sat down, Maria stand on my shoulders, I straightened legs and she went up. Well, that was my turn, but everything around appeared blurry... The last thing I remember I jumped up into Sam's hands and then there was kaleidoscope of faces, words, sounds rotating in my mind. When I was back to consciousness, I was already up there, and guys lifted my hand up to punch the finish CP. Wow, that was not expected at all, and was definitely a new limit I've just braked through. Hey, that's a 'grade A' race as they call it, and that's China race. Hard, intense, hot and every second counts!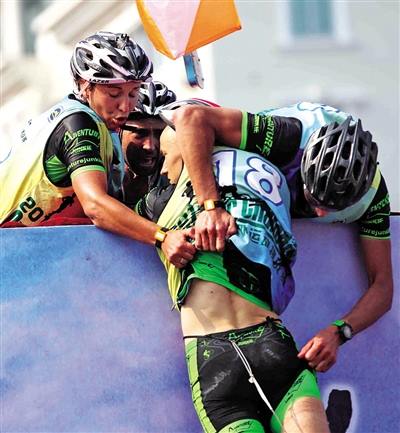 Day 4
Alex: Day 4 began, for me at least, with mixed feelings; slight trepidation for both the abseil and how my stomach would hold up and being glad of the fact that it was the last day of racing. I managed to forget the fact it was my birthday until searching for the correctly dated breakfast vouchers, and all in all it's fair to say it was probably the worst birthday experience of my life!
Supposedly being the strongest swimmer on the team my day began with an abseil off a dubiously constructed suspension bridge and a 200m swim to the kayaks, where the rest of the team was ready and waiting. I think I hit the water in about last place, not being overly fond of heights, but I managed to make up a fair bit of time on the short swim and we got away in about 7th or 8th, just behind the leading pack.
Unlike the 2nd day the paddle was quite pleasant, with almost visible blue skies and relatively clean water. For the first half an hour I felt good, Maria and I paddled up to the Finnish team and enjoying a pleasant wash ride, while Serge and Sam were riding along on the Brazilian teams wash just behind.
However things definitely took a turn for the worst with my stomach becoming increasingly uncomfortable. To cut a long and largely unpleasant story short with no other options I had to shit myself. While still in the boat. Twice.
Although I was feeling pretty crook I definitely felt worse for Maria who had to sit in the same kayak as me. Despite this we still managed to maintain our position and fortunately I was able to have a quick wash on the wade to the riverbank. We hit the bikes with only 25k's to the next TA but a fair bit of climbing ahead of us, having not being able to keep any gels in on the paddle I smashed a muesli bar thinking it might be a bit more pleasant on the stomach. Fifteen minutes later I was on the side of the road with my knicks down, great birthday.
My legs were not too bad and I was able to help tow with Serge, who was becoming stronger and stronger as the race went on. In classic Chinese style the stage designated as "non-technical" probably contained the best mountain biking of the race, it was nice to let the bike roll through some decent singletrack instead of the usual rough fireroads.
We hit the final 9k run in about 9th, neck and neck with peak performance, after being passed in transition by the Finnish and Brazilian teams. The run itself was quite pleasant with the track working along the side of a gentle flowing river, although I almost managed to convince myself that the leg was going to be a lot longer than the 9k stated in the handbook, with the course profile shown in the handbook completely different to the terrain we were experiencing. I was just able to jog along behind the team in a bit of a dazed state and was incredibly relieved when the finish line came into sight, slightly earlier than anticipated.
I ended my suffering with a nice long hot shower prior to the two hour plus bus ride back to hotel. As a team we ended up ninth overall, a massive improvement on our first day result of 17th, and a really pleasing result worthy of the great teamwork.