GODZONE
Chapter
5
2016
Team
Adventurejunkie.com.au
"It looked pretty straight forward on the maps, but reality proved different with lots of fresh and old unmarked logging roads etc keeping everyone guessing. Even the MTB park map was incomplete." - enjoy team AdventureJunkie.com.au story, epic jorney through New Zealand wilderness in 4.5 days, prepared by Bern Dornom and Hugh Stodard!
Stage 1 Coasteer and Kayak Tasman Bay 30km 3hr 50min
Course & Navigation comments: This leg was very straight forward with no route options and little navigation. Biggest challenge was surviving the surf landing.
Well amongst a lot of teams, spectators and nervous excitement the gun went off and it had begun. A race around the Kaiteriteri beach and coastline, lots of rock scrambling and jostling with other teams for position. The first checkpoint was a swim out to a little rock island. Hugh drew first blood scraping his shin as a wave washed him onto rocks at the crowded exit.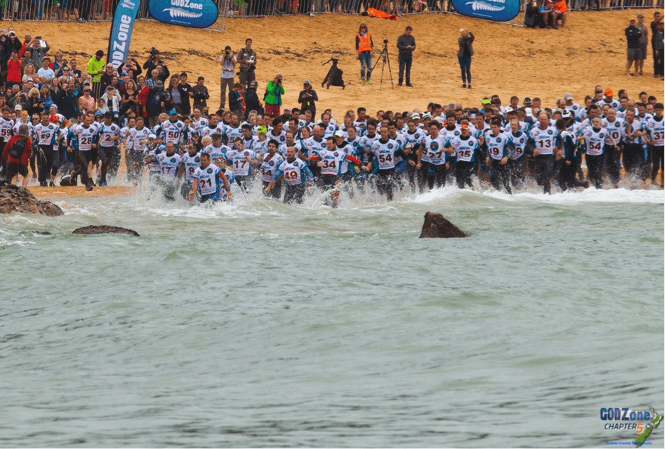 A combination of rock hopping and swimming took us to Stephens bay where our kayaks were waiting for us. A sleek white barracuda for Serge and I and a yellow bathtub for Hugh and Josh. Was a steady 30km paddle in a long line of kayaks across to Rabbit Island with the bath tub living up to its name in the comfort stakes for Hugh and Josh – not so much.
Approaching Rabbit Island we could see a throng of gathered spectators and they looked like they were being treated to some entertainment as some decent waves were causing some carnage as teams tried to surf into the beach landing. Serge and I caught a great runner almost all the way into the beach unfortunately dropping off it landing right in the break zone where we promptly nose dived on the next wave. Hugh and Josh managed to stay on their wave albeit sideways into the beach.
Stage 2 MTB Orienteer and MTB Richmond Range 60km Elevation +1410m / -1277m 7hrs 3min
Course & Nav: It looked pretty straight forward on the maps, but reality proved different with lots of fresh and old unmarked logging roads etc keeping everyone guessing. Even the MTB park map was incomplete.
After a transition change in front of cheering spectators (interesting as we had to nude up), we split into pairs to collect controls on the 2 sections of mountain bike orienteering challenge. Serge and I made a slight detour mis-punching at no 6 so we visited that twice at least giving Hugh time to have his shin dressed whilst waiting for us to return. Then we regrouped and took off together for the mountain bike.
I discovered a swing bridge is not an ideal place on a bike with some other teams at about 2/3 across being bumped edge to edge. I was lucky to stay upright, unlike all 4 of the following team who didn't quite manage so successfully.
This leg was a maze of single track in the Silvan Forest followed by a maze of logging tracks up and up and over the Barnicoat Range heading towards Wairoa Gorge well into the night. We did deviate off some logging tracks for a bit and 'cut through' a farm property to refind the road at one stage when the logging trails got a bit confusing. It felt just like Geoquest for a while when we emerged from our "alternative" route to join MD's and Paddy Pallin. I did nearly get swept off my feet literally riding across some floodwaters. Boys to the rescue - thanks.
Stage 3 Alpine Trek Red Hills 52km Elevation +3250m / -2687m 25hrs 39min
Course & Nav: The first half of this leg was following a ridgeline. Relatively straight forward when you can see, but we did this leg at night and in fog so saw nothing and the biggest challenge was finding the right turns to stay on the ridge and not getting frustrated by the series of false summits approaching the first CP. The second half had a range of options, some involving dubious river crossings. We chose a conservative option (which was similar to where the leaders went as it happens) but missed an unmarked trail most of the locals knew about and lost a couple of hours going up and down hills instead.
The track quickly got steep for the long hike and climb up Ben Nevis track in the dark then some challenging and technical rock scrambling across ridgelines as day broke (although still wet and fogged in). A few teams were having difficulty locating the right spur line with limited visibility but without too much back tracking Hugh's navigation skill and gut instinct found the Red Hill summit we were after and CP10. Just before reaching CP10 on the summit we saw an unfortunate slip by Chris from Team Bones as the rocks he was standing on gave way sending him tumbling down the slope with large boulders. It was a frightening fall and we were all very relieved that he survived and didn't break anything coming away with severe bruising and a gash to his elbow. Even more impressive he managed to walk himself back down from the checkpoint. It was a sketchy climb down from the checkpoint even following the marked track and everyone was quite relived to reach Motueka River.
We stopped briefly at the river and CP11 for some foot care and food before following the river down the valley. When this got slow and the flow a bit more difficult to cross we hiked up to the ridgeline to follow that along. We then had some 'bush bashing' as we descended down a ridgeline across a stream, up through a beech forest and the second night approached, down through the beech forest, across another stream and up through the beech forest to hit the track to Beeby's Hut
Coming down the final 7km 4wd track descent into the TA was somewhat sobering. My quads were burning and I felt like i had just done an Ironman and more. And this was only leg 3. Oh dear.
Stage 4 MTB and Orienteer Rotoiti 47km Elevation +660m / -903m 9hrs4min
Course & Nav: The MTB bits were straight forward (aside from the usual unmarked trails that meant we needed to concentrate and the Orienteering was a nice little course (although we were sick of the clue "XXX of Boulder" by the end of it – there were boulders everywhere.
We had a very sleepy and slow transition that would have been entertaining to watch. I'm sure you could see how slowly our brains were ticking over. We rode the 12km to near the orienteering course and found a campsite – well a concrete floor of a shower toilet block that was under cover, set up or bivvy bags and sleeping bags and after being on the go for 38hours had our first sleep – a massive 2 hours. Alarm set for 4.15am
We completed the challenging orienteer course with some solid nav just as the sun was starting to rise. Back on our bikes for some highway and then gravel road riding including some decent climbing finally a spectacular descent dropping down to the TA at Lake Rotoroa
Stage 5 Kayak and Trek D'Urville 34km Elevation +1290m / -1230m 13hrs 43min
Course & Nav: The paddle part was straight forward, but the trek had quite a few route options. We chose to follow a marked route up the river then follow a ridge up onto the range and the CP. Interestingly we started this leg close to four other teams, all of whom took slightly different routes, but which resulted in all four teams meeting at the CP within 5 mins of each other after a few hours of trekking! Our route choice down was not ideal as we chose the track by the river and lost an hour or so on teams going the other way (which meant an hour's less sleep in the dark zone).
We inflated our inflatable kayaks and headed south down the lake all the way to D'Urville Hut. It was a pretty scenic paddle for the morning between the mountains of the Nelson Lakes National Park. We were treated to spaghetti bolognaise and a hot drink at the Hut by Nathan Fa'vae's Absolute Wildness company before heading off onto trek 2. We traced the river course as far as we could and then a bit of climbing/cliff scaling to After reaching the peaks in trek one either at night or under heavy fog we were excited to reach a peak in light and a magnificent 360 degree view of Nelson Lakes NP. Awe-inspiring. It promptly then started to hail and cloud over.
We descended as the light faded via Mole track until the track had been washed away by recent flooding where we followed the widened riverbed. It was slow going and we were happy when the track reappeared with a few kms to TA5.
Stage 6 Canoe Matakitaki 50km Elevation +0m / -350m 13hrs 34min
Course & Nav: No CPs so follow the river and don't miss the exit! Easy.
It was 1130 when we hit TA5 so this meant we would get some forced rest waiting in the Dark zone to start the white-water canoe so we were in the Dark zone and couldn't start the Dark zone. A luxurious 4 hours, grateful we packed a second tent in our transition box for this leg. We woke at 4.15 am to pack up and walk the few kms down to set up out canoes and head off at 615 when the dark zone lifted.
The canoe was amazing. My favourite leg. I must admit I was picturing a few little challenging rapids and then a bit of floating and relaxing in the canoes. Not quite true. There was lots of action and rapids from early on with Hugh and I getting into our rhythm in one boat and Serge and Josh in the other. Rapids from Grade II to III+/IV-. We had two mandatory portages as rapids too dangerous – the two teams that had got through the previous day had all come out spectacularly on these rapids and lost a bit of gear so not a bad idea to force a portage. Although dragging canoes around over rocks and through trees wasn't easy either. On an innocent rapid Hugh and I wrapped our boat around a rock with the back quickly getting sucked under the water promptly spitting Hugh out of the boat. I was then stuck on the rock in the canoe with Hugh on the bank. Hmmm. Took a bit of manoeuvring to finally get it off the rock and Hugh was glad to get back in the boat although after his swim he was freezing. Best to paddle a bit harder. We negotiated the rest of the rapids – going down the biggest drop backwards whoops. So much fun and so beautiful.
After dropping the canoes at the exit point we walked through the town of Murchison to the oval and TA6.
Stage 7 Mountain Bike Nuggety Creek 34km Elevation +270m / -70m 2hours 4min
Course & Nav: Simple - follow the highway and don't miss the LH turn to the CP.
Leaving the town of Murchison this 34km bike leg was more of a connecting stage with us time trial riding in formation along the highway and then gravel road to the start of the Mt Owen trek. There was plenty of support out on the road from local school groups to random farmers.
Stage 8 Alpine Trek Mt Owen 35km Elevation +2280m / -2313m 19hours 6min
Course & Nav: The map had tracks and marked routes for all of this except for the high section near Mt Owen. There were cairns to follow for the Mt Owen section so that ended up being pretty straight forward (even in the dark), but the Lookout Range section had a couple of saddle and gully crossings where the route (there was no trail) was hard to follow in the dark. We did this section with three other teams so had the collective power of a few navigators to guide us, but it was impossible for any team to make a break. We were first to find the trail down from conical hill, but at that stage were slowed by Serge's knee and a minor nav mistake at the trail exit so did not get any advantage from this.
Wow wow wow. Ascending 1000m in 3km to the pop out above the tree line, scrambling a steep Ridge to Sunrise Peak and then climbing and rock hopping the most amazing limestone rock formations. We didn't quite get to the top before sunset but did have the best red sunset with 360deg views on the Ridge below before scrambling the final climb following cairns to Mt Owen summit with our head torches. We descended to Granity Hut via a track and then down, leap frogging Team Seagate and a couple of other teams, often seeing headlights either in the distance or behind us only to meet up further down the track. Serge continued to struggle with the sleep monsters and a sore knee as we descended the down last slippery mountain track and it took us a while to locate a small offshoot of the dirt road the track popped us out onto to head to TA8. About 3km from transition we came across a truck cabin that was unlocked (unfortunately the small cabin next to it was locked) that was sufficient for a much needed 1hr30min sleep/recharge just as the sun started to rise.
Stage 9 Mountain Bike Rameka 140km Elevation +1470m / -1800m 9hrs 20min
Course & Nav: Follow the roads and don't miss turns.
Josh set the pace for the majority of the flattish road riding for the first 100km of this leg as we dropped into formation behind him. Then we had a steady 15km Takaka mountain climb to wake up those legs before the undulations of the Abel Tasman national park.
We all struggled a bit on the rameka single track. A combination of fatigue, slower reactions, packs on backs. Unfortunately I had a little stack off the edge of the track grabbed a tree with my left hand and dislocated my shoulder as I landed. Ouch. When Hugh and Josh were helping me up Dr Hugh managed to use all his skill to relocate it (or one might say accidently popped it back in). Luckily we were able to strap it up to continue, running with my bike the remainder of that track by then able to ride almost unaffected the remainder of the leg (and paddle the final leg).
As we passed through a town in Abel Tasman we even managed a quick stop for hot chips coffees and cold drinks as we rode through Pohara, the shop owner very excited to inform us of all the Godzone gossip as she has been religiously tracking the race – think she was still mostly interested in seeing Richie McCaw. ;-)
Stage 10 Kayak Abel Tasman 35km 6hr 16min
Course & Nav: It would have been very easy with light, but at night with no moon it was a little tricky making sure we were turning into the right bays etc. Sleep monsters were our biggest challenge and we managed to paddle around the correct island for one CP, but not see the actual control, which meant we messed around for a while to confirm our location before returning to find the CP (which allowed the team behind to catch right up to us). Big tides made this leg quite different depending on when teams did it. We had high tide so could paddle close to the CPs, avoiding the 400m beach walks some teams had.
We arrived and transitioned just as the sun set. The paddle along the coast back to Kaiteriteri is supposed to be impressive so it was a little bit of a shame we were doing it in the dark. It was very tough for us to stay awake in the kayaks all having a few little snoozes I'm sure. Just as Josh was collecting the penultimate checkpoint another team almost managed to catch us (as we dawdled a little with our sleep monsters). This meant the final 7km stretch became a sprint finish as we charged home to stay ahead of them. Not really what you need after 4.5 days of racing but at least it kept us awake
So stoked to finish 12th in a top class field and be greeted at the finish by race directors, staff, a pie and a beer. What an adventure. Hard work but oh so enjoyable. Thanks to my amazing team mates – Hugh Stodart, Josh Street and Serge Kurov.
Total time: 4days 13hours 37minutes