Nordenmark
Nordenmark Adventure has since the beginning of the 80´s developed and produced mapholders and punch card holders for ski-orienteering.
Holders, which make the matching work of the coaches easier, is yet another of our products.
Mountainbike orienteering and multisport are sports that require special equipment, like for instance mapholders suited to tough cycling.
Nordenmark products are used, developed and continuously improved by world class athletes in mountain bike orienteering, adventure racing and ski orienteering. Feedback from the world's best navigators helps us produce the world's best map boards.
In addition, Nordenmark Adventure develops and produces special holders by order, suited to different terminals, such as GPS, and various instruments within fields reaching from nature adventures to space science, mineral search and more.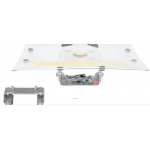 Robust and stable map holder for Adventure Racing Navigators who demand the best.
Lightweight Map Holder for MTB-Orienteering and Adventure Racing