BUFFalos
X-Marathon
2021
Race
Report
"Now that I've browsed the AFR (a breakfast routine hangover from COVID) it's time to write about perfection. I've been avoiding this for two weeks as the storyline hasn't evolved in my head beyond one word 'flow'. The story unfolds in Paynesville, Gippsland during X-Marathon Nargun and the Lakes Edition 2021."- Eibhlin Fletcher, team BUFFalos, second place finisher.
Eibhlin is a leadership and team coach, and founder of Get A Grip of the Grind. She's an avid adventure racer and endurance athlete that uses her experiences to enhance the performance of leaders and teams. You can find out more about Eibhlin and Get A Grip of the Grind (the annual festival is coming up in February 2022 in Bright, NE Victoria) here>>
A few weeks ago, some mates asked whether I'd consider racing with them. This was going to be a privileged and scary proposition. They are elite athletes, even the Mum with a 10-month-old baby, potentially not as fit as me at this point in time, has that elite mindset where they can push themselves for eternity. I said yes, and then mithered about what I'd gotten myself.
Team BUFFalos: Bern Dornom, Elizabeth Dornom, Eibhlin Fletcher, Shelley Bambrook
Setting expectations
As a team, we set some clear expectations up front; discussed potential hurdles (Bern must express or breast feed a few times throughout the non-stop 36-hour race over 200 km of bush via mountain biking, pack rafting and trekking). We also worked on what roles we would have and how to maximise our time leading into and whilst in transition, as well as optimising the logistics plan to ensure our primary goal was achieved – to have fun! Fun, yep. We'd never raced together before; 2 were sisters, 2 were mothers, 2 were partners, all were experienced athletes in their own right. We were all women excited about racing again.
Eibhlin caught on camera as she was checking in at a CP
Our expectations were our anchor. They were simple:
Have fun (but a podium would be nice)
Leverage the fit and strong
Be organised as much as possible prior to the race start
Help each other in transition – especially the breast-feeding Mum
Communicate, communicate, communicate
The prologue on the Friday afternoon taught us a few things: pack rafts aren't great at powering into headwinds and chop; make decisions on the fly. With only 2 checkpoints to negotiate on the short prologue stage, we started out with one paddling combo and finished in a different combo (and one of us also finished with a different paddle!!). We would do this quite often throughout the race proper to maximise our efficiency, speed, and comfort. After picking up the last checkpoint we opted to beeline for the shoreline rather than paddle the shortest distance back to the finish. Running along the shore carrying pack rafts was definitely quicker than paddling into the headwind.
The race commenced at 5 am on Saturday morning (but we were on the bus at 3 am to get us to the start line and give us time to set up our bikes which were still in bike boxes). We managed to get a short sleep on the ground using our bike packaging for warmth!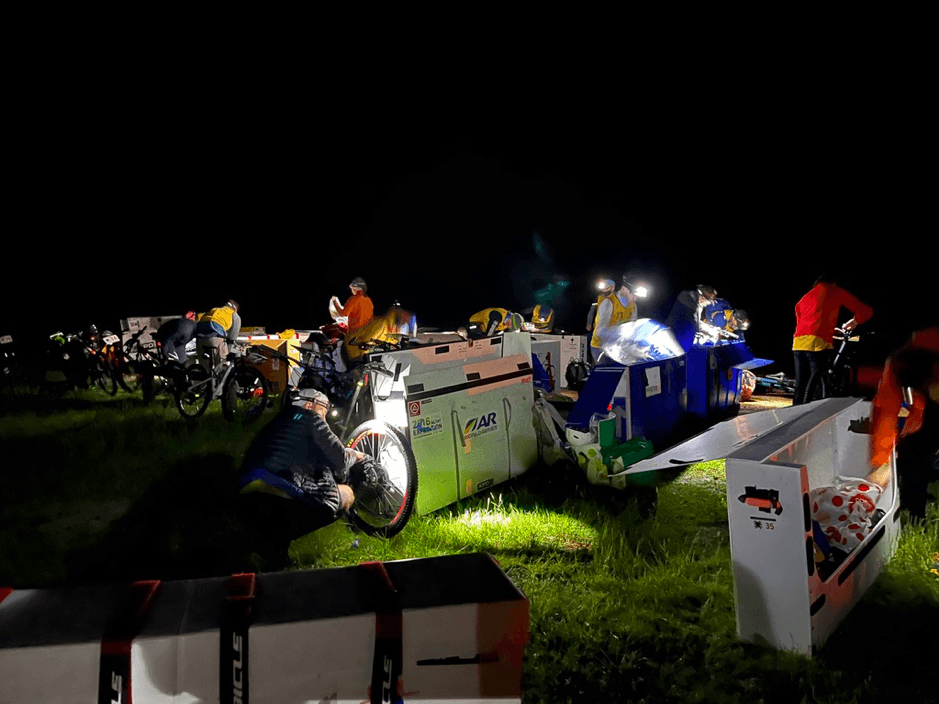 All teams assembling their bikes at 3 am in the morning
The first leg was a trek, around a mountain bike park. Pretty solid nav by Elizabeth and Shelley got us back to the transition in time to see the lead team of two, Josh and Katherine, head off on their bikes. Turns out we were second team in, closely followed by Gold Coast Tigers!
Wet and dirty bog
The bike leg was just wet, dirty, and boggy. We visibly swapped places with our race nemesis the Gold Coast Tigers throughout this leg. However, our most pleasurable moment was collecting the pack rafts at CP. Up to this point, Elizabeth and Shelley had carried the lion's share of kit. Being stronger it made sense (Goal No. 2). Bern and I raced with lighter back packs. We had pre-packed the 2 pack rafts into back packs, including the paddles and two buoyancy aids such that these two bags were pulled out of storage and just popped onto Elizabeth and Shelley's backs. Bern and I took the bags they were using for the last two legs, dropped our lighter packs in there, attached buoyancy aids and we were on our bikes to the water (about 3km along) in about 30 seconds. Gold Coast Tigers who were at this transition before us, looked up like meerkats wondering what the hell had just happened? How did we arrive and leave in ninja speed time! That moment felt awesome! (Goal No. 3).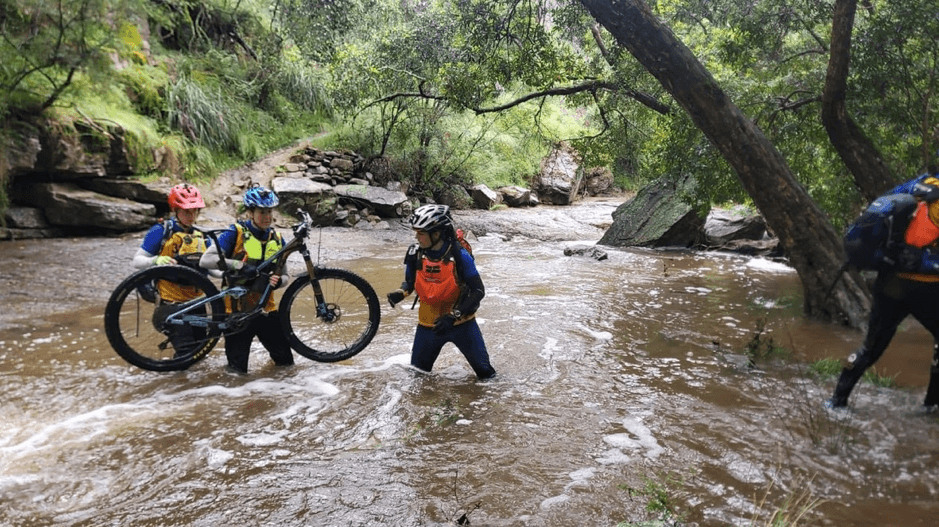 Getting the bikes across a fast-flowing river
An over-flooded river
The pack rafting leg was the most eventful segment of the race. It could have been more eventful had we just gone one more bend with our bike laden pack rafts but fortunately we opted for the safer put out point prior to the bike offloading transition area. The Mitchell River was ginormous. NZ standard rapids and standing waves peppered the course. We put in upstream of the largest standing wave any of us had seen in Australia. It was easy a 1-meter monster. Elizabeth and Shelley in one pack raft, Bern, and I in another – but not for long. The standing wave caught us and threw us overboard. I ended up floating downstream under water for about 50-70 meters, whilst Bern managed to hang on to the pack raft and the paddle. It was bloody chaotic. The roaring water made it hard to hear, the speed of it made it hard to do anything other than go with the flow.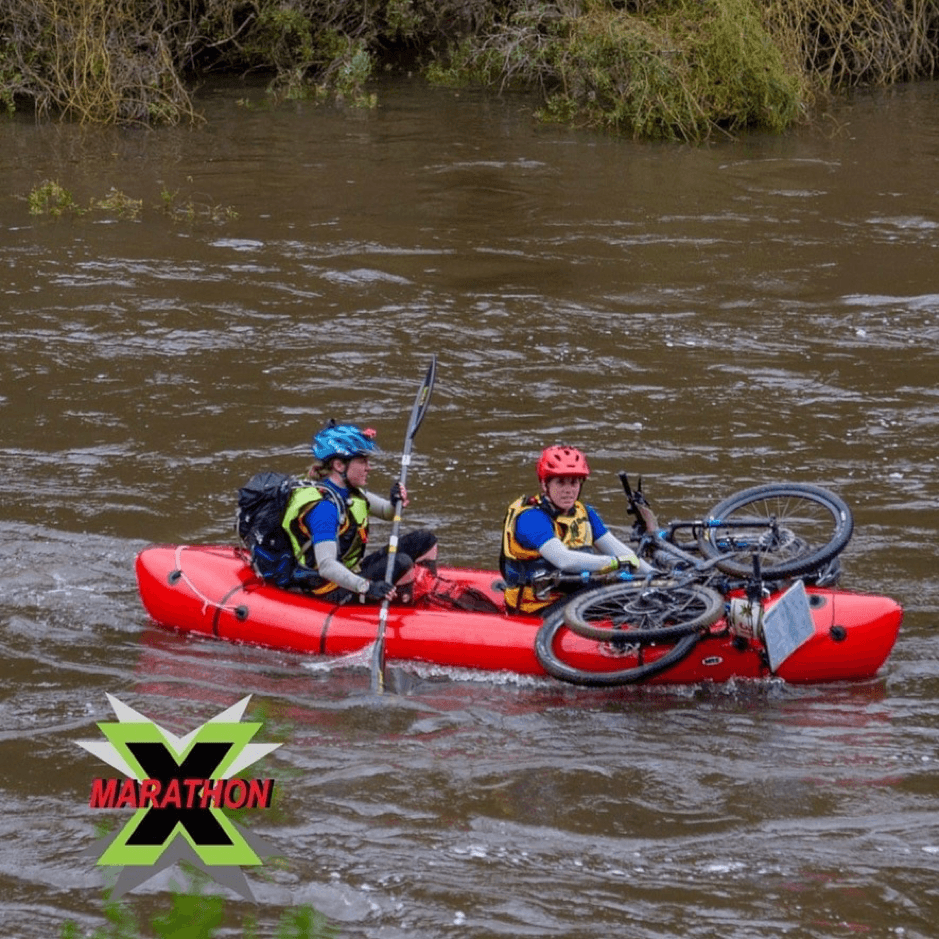 Shelley and I balancing our bikes on the pack raft as we cross the Mitchell River
I eventually got to the bank, hanging onto a branch until my teammates recovered Bern upright and back in the raft. It was then time for Elizabeth and Shelley to have a swim as they had capsized somehow in the process of reloading the second pack raft. We pulled over not long after this, to empty the rafts of gallons of water. At this stage Elizabeth and I were in one raft, Bern and Shelley in the other. Bern tried to get out on to the bank, but her body had different ideas and we were gifted the whole-body cramp dance, with sound effects, for a solid 5 minutes, whilst Shelley, doubled over with laughter, was possibly rendered more incapacitated ;-) Whilst it was the hardest we all laughed (except for Bern) throughout the race, she had clearly been working too hard. A healthy dose of salt tablets and salty biscuits eventually got her going again.
Risk taking on the big known rapids.
If the standing wave (not declared by the race organisers) at the beginning of the white-water leg had caused us so much grief, what did it mean for the two named rapids on the course that were identified as portage options? Portaging around definitely takes longer but we could be in all sorts of trouble if we run the gauntlet and are flung out of the pack raft like startled frogs. Shelley was feeling a strong urge to go to the toilet, but the twin sisters appeared confident, getting out to scout the rapids and plan our path down. Usually, I stayed with the rafts leaving the three more experienced water babies do the assessment. It was quite empowering being in the middle of nowhere, listening to my teammates talking themselves into going down the rapids having been evicted by the Michelle earlier. We were able to negotiate the remaining Mitchell River without any more unplanned swims which we were all thankful for, finally just enjoying fast flowing water.
Packrafting provides the best opportunity to chat with teammates in a race as you are literally stuck within a metre of them for an extended period. Sometimes this chatter is race, technique or strategy related but other times it is a chat about nothing, everything and something, deep or frivolous. Fortunately, this was a daylight pack raft or else the chatter often is less intelligible and includes random songs or descriptions of hallucinations.
Catching Tigers
Gold Coast Tigers got to the next transition ahead of us near Ripplewood Caravan Park, Wuk Wuk. Myall turned up with baby Zoe. Whilst Bern was feeding Zoe, Elizabeth got started on helping Bern's transition tasks (Goal 4). We were getting back on our bikes here on what was meant to be more road type terrain. So, we filled our tyres with extra air, locked off the suspension and oiled up the gears. We were ready to go - another quite efficient transition. Gold Coast Tigers were out in front of us, just. We took a slightly different route to them, both teams converging on the first check point CP 21. For CP 24 we waded into a swamp like river birds. Never think you can stay dry adventure racing! Then it was a slow time-trialling grind over the next few hours, tucked in – single file. Tour de France aficionados would have been proud of our echelon efforts with the wind as we were time trialling like we had been doing it for years. We overtook GCT on Leatham's road (a long road leading off into the horizon) and extended that lead on Goon Nure Road, maintaining it all the way to TA3. The team was working super well together with lots of drafting - Elizabeth and Shelley the only ones to really get their noses into the wind (thank you). Goal 2 and Goal 3 ticked.
The big trek
We left this transition still in the lead, but with GCT hot on our heels. Our navigational decisions differed here to GCT. We lost a bit of time hunting for CP 36, when they nailed their route choice. CP 38 was a wee bit weird. Advised by Serge to just walk around the point until we find it, we did just that, and then kept on walking / wading to CP 39 hoping to find the RPC track shown on the map. We may have walked on bits of it, but who knows. It was a bush bashing extravaganza. GCT did an out and back to CP 38, yet both teams ended up converging on the same checkpoint (39) at the same time. Our route choice meant we still had two CP to collect towards the end of the leg, when GCT had already picked them up with their neat route choice at the start.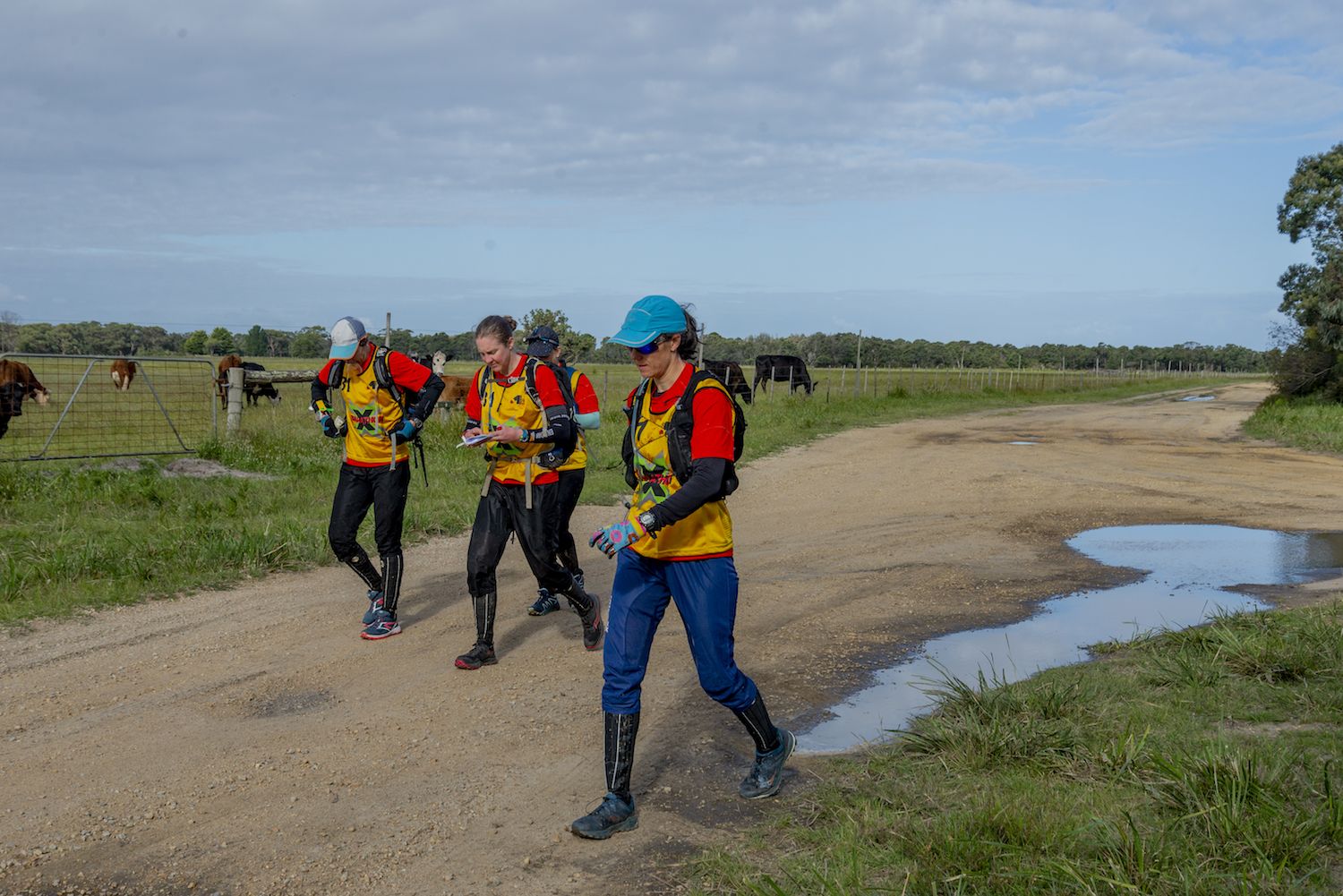 Starting the big trek
The split leg
It was windy and pitch black. Together we needed to cross Lake Victoria in the pack rafts. The only thing we could see that was roughly on our compass bearing was a green light marking the channel. BUFFeted (ha-ha) by the wind we passed the green light. Now where to? How much was the wind pushing us off bearing? How much was the current pulling us in the other direction? We could only keep trying to paddle in the direction of the bearing. We hit land and found a track that looked like just the one we were aiming for. The navigators couldn't believe it and refrained from claiming a stroke of brilliance (fluke) until we hit the first checkpoint on the island, confirming our location.
Now the teams had to split in two. A pair to pack raft and a pair to trek. The pack rafting pair of Elizabeth and Shelley kept the tracker for this leg. They had an awesome run, overtaking GCT and meeting Bern and I at Trapper Point for the last leg, then with the team together again, we pack rafted back to the finish line across Lake Victoria to Paynesville Foreshore.
Bern and I had a few problems on the trek leg. We saw GCT pack raft left at the entrance to the road to CP 45. We never saw the pair – it was night-time, and the terrain was very dense. I'm still unsure how Serge or Maria managed to place a checkpoint on a high point (dimple) in machete terrain. We found it reasonably quickly and headed off for the next CP. CP 50 turned out to be our navigational epic. We spent quite a few hours hunting through mosquito infested bog water, and tall tightly packed trees to no avail. Apparently, there was an oasis of sweet-smelling water around the CP somewhere. We never found it. Opting for the hour penalty we left without collecting the CP and headed to Trapper Point to meet Elizabeth and Shelley, and onto the finish line.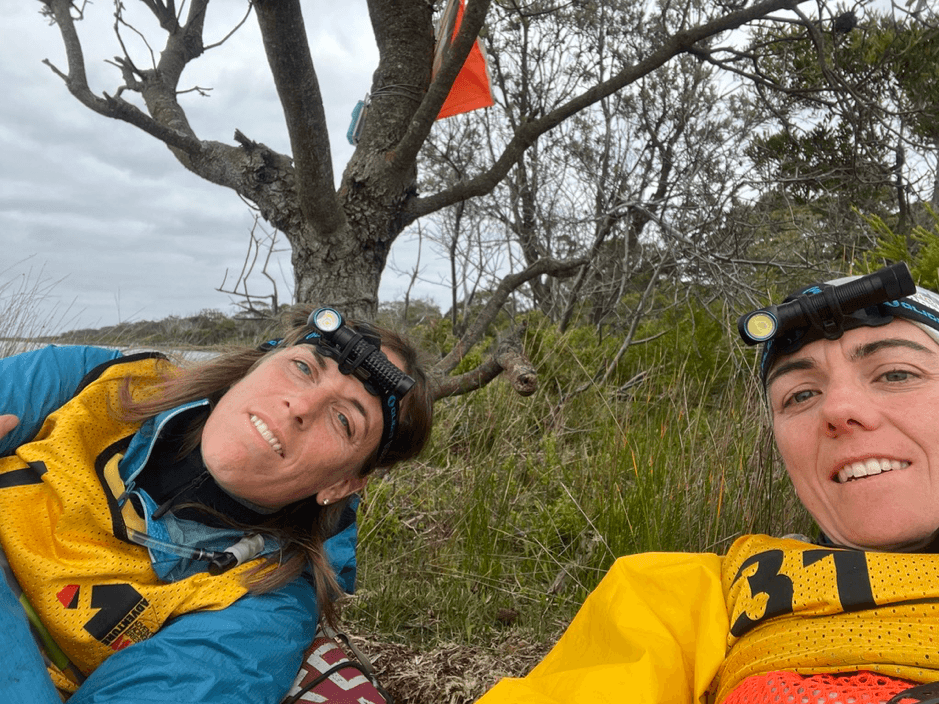 Bern and I at Trapper Point watching Shelley and Elizabeth paddle their way back to us
We were first to the finish line, however GCT's thoughtful navigation and us incurring two 1-hour penalties for the dropped CPs saw GCT clinch first place despite GCT finishing over an hour behind us.
Did we hit our goals?
Have fun (but a podium would be nice)
Leverage the fit and strong
Be organised as much as possible prior to the race start
Help each other in transition – especially the breast-feeding Mum
Communicate, communicate, communicate
Did we have fun – well we laughed really hard at Bern and Shelley's cramping act. So hard it was a challenge to talk. We had a lot of type II fun. We got the podium finish too! I remember a few "woo hoo" moments out on the bike legs as well and the rapids were certainly nail-biting thrills when you stayed in your boat.
Leverage the fit and the strong - Elizabeth and Shelley were awesome at taking weight and Elizabeth at towing. All to keep the team together, connected and fast. We communicated well, watching each other for signs of fatigue, checking who was doing what coming into transition, ensuring Bern could prioritise her Mum duties. An honourable mention to Myall as team member No. 5. He had a very important job to have Zoe prepped and ready to feed in the TAs.
Be organised, Transition & Communicating - When racing with professionals you learn so much about being organised, before the race, during the race and even after the race (just one change of clothes minimised laundry and lost time in transition); finishing your TA tasks first then moving on to helping others and communicating, always. Bern, however she managed it, often had expressed or breastfed Zoe and still managed to finish her transition tasks ahead of us. It was so fast I didn't even see it! It's not enough to just look after yourself, a team is only as fast as its slowest person, we needed to look out for one another – read signs of fatigue and call it out. We knew this, and no egos got in the way of requesting or offering help! It was seamless. It was flow! It was incredible.
Mother Bern, with partner Myall and baby Zoe at the finish line
It's been a long time since I experienced flow. It's the only word I can use to describe racing with this incredible bunch of women. We are all in a bit of shock at how well we raced together. We were calm, experienced, collaborative, communicative, singular in supporting one another, clear about our goals. The team worked. The team flowed! What a race.
Elizabeth catching up on sleep after the race