Avon
Descent
124km
downriver
kayaking
race
-
always
ready
attitude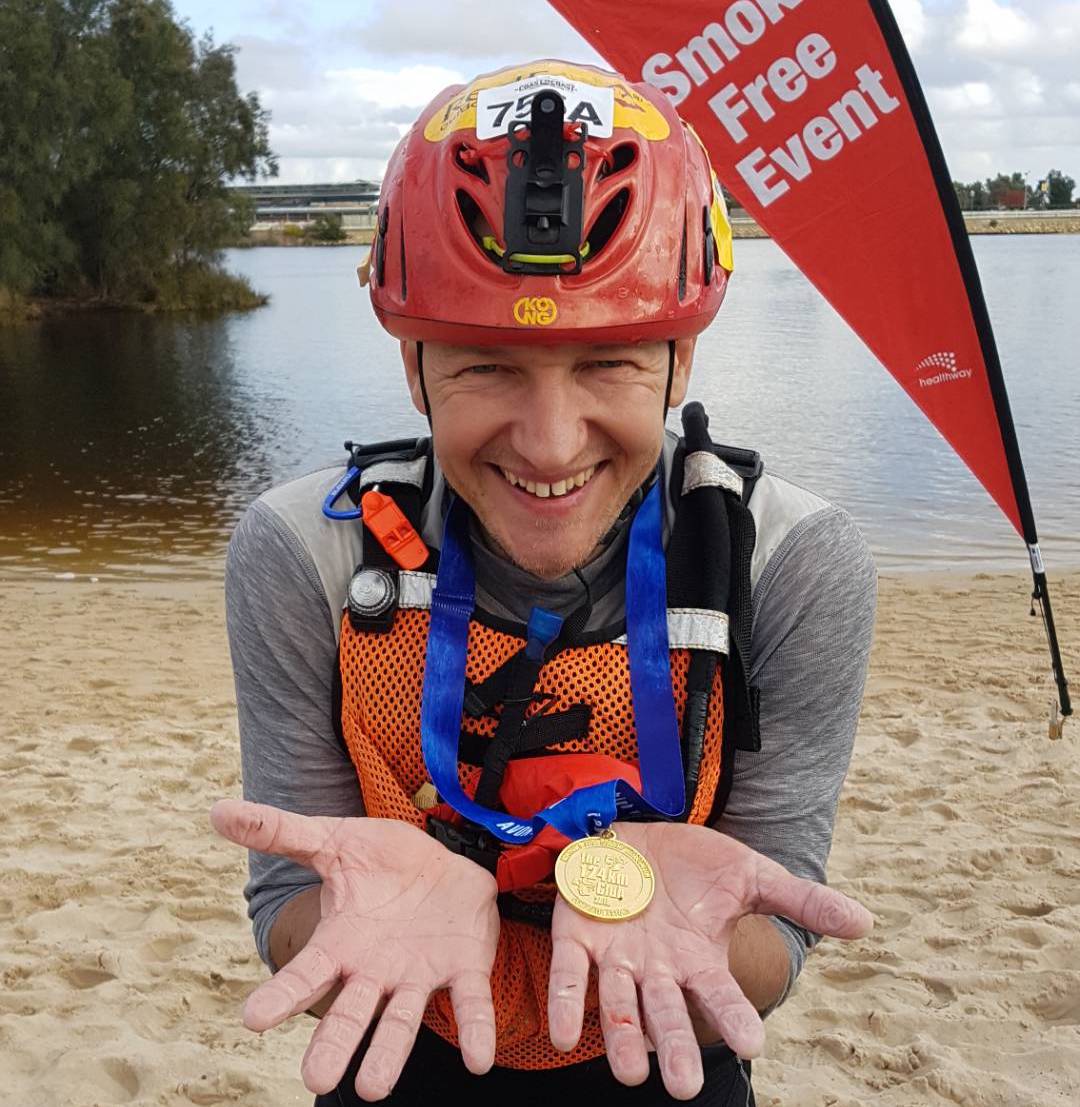 I just went to Avon Descent Downriver Kayaking Race in Perth. It was a fantastic experience and when I close my eyes, I can't stop seeing those rapids for the second day in a row. The distance is 124km over two days, 52km and 72km respectively.
I was going to give it a go 3 years ago, and then again 2 years ago. I almost went last year, but again, didn't make it. This year I submitted my entry straight away. Next thing, I found a suitable-looking Spirit Fury in Perth, purchased it, and my good friend Tom Chadsbourne went and picked it up for me and stored at his place.
I know lots of people want to put max efforts into training and do their best. My approach these days is simple – I am ready. Always ready. This does not mean that I do not train, however, not at the expense of the many other important things to me in life.
My family left for Russia at the end of June, leaving me with 1.5 months to get better prepared. I've started to become a regular with Peakadventure paddling squad and have put in a few (three) runs down the Yarra on weekends.
Thompson River was up - this is the location we are planning to run the Adventure Cup Multisport Championships April 2020 - and we gave it a good crack with Tim Boote. I managed to put a hole in Peakadventure's Fury – so no more Fury training for me.
On a Thursday evening flight, I arrived in Perth and John Carrol's place. Waking up in the morning, I looked at my Garmin and saw it was 9.00am. I slept in - I was supposed to be at safety qualifications! Thankfully, I realised soon after that Garmin did not know that I was in Perth now and as Perth is two hours behind Melbourne, the local time was actually 7.00am. I picked up my 'new' Fury and headed down to Walliyunga National Park for the qualification tests.
Qualifications were quick and easy, so afterward I had some free time. John worked until 4pm. We met for dinner with John and Kat Bulk from New Zealand. I had met them both 2 years ago, back at ARE Extreme in Sweden – that was a very lucky day. It is not often you meet soul mates.
We then got a surprise, we needed to go to registration to Northam, which was 1-hour drive away. We nearly missed it, but luckily the organisers were still there at around 8 pm when we arrived and we received our race bags. Then another surprise, we needed to leave our boats at Northam foreshore. That done, we set off back to Perth.
The river levels were low, really low, but it had been lower in recent years. Worked for me, I could run where I had to, no problems. A plastic ski is a solid piece of equipment, it would get me through.
Day 1 – 8:30 start. Half an hour earlier, about 30 powerboats stormed off, one per minute. I did not have a chance to see the river - but remember – I'm always ready, no matter what.
The start was in grids of 6 people and John, Kat and I were in the first grid at 8:30 sharp. Funnily enough, I nearly missed the start because I sourced a spare paddle and ran back to put it in the car boot.
When the start signal fired I was five meters behind the line, paddling up. I caught up, two guys paddled away and then John did too. I wasn't going to hang on if it cost significant energy and I knew John was a very good paddler. 500m along is Northam Weir, it would be fun to watch when water levels are higher, but now it was just a bitumen slope. The river was looking seriously like a little creek. If anyone had have told me what it would be like 70km downstream, I would not have believed it.
The first 15kms was a bit like paddling in a very shallow creek. I ran a few times (does not bother me), but here, K1 paddlers started to pass me like I was standing still. This is definitely a next challenge – paddle Avon Descent on K1. Everything so far was perfectly within my abilities, so I was happily paddling along and plotting next year's challenge.
Waters started to rise and there were some rapids, but nothing too remarkable. It was all still looking to be within my K1 abilities, and next year's plan was becoming firmer.
K1 paddlers kept passing me, fast and furious. There was one K1 guy paddling close to me and I could see how minimal paddling effort was transferred to speed…
It all changed about 42k down the road. The TI-TREES! It was something I'd heard of, remember, I'm ready. Since I could not really do anything about it, I just disregarded everything I'd heard and was ready to meet whatever awaited there. Ti-Trees is a stretch of river, over 10km long, where the swift-flowing river braids between and under little trees, does switchbacks and turns all directions… minor rapids are also mixed in there. All of this makes a massive challenge to navigate. For me, it was a challenge. I fell in once, scratched through tree branches multiple times and got stuck in a braid that just ended, so I had to walk out, dragging the boat behind me through the bushes to the neighboring braid.
The first day's finish was just around the corner, 52km done and dusted.
5:59, 13thin open ski category. I think it was ok, considering how many people were paddling and how well they could paddle! There was no damage to the boat and the paddle. Some damage was done to the paddler though – a couple of scratches and one big, annoying blister onthe left hand.
I forgot to mention, I signed up for the Avon Multisport Challenge trial, so I brought a mountain bike with me. There were only four of us (one of who was John Carrol) and we set off together at 3 pm for the 36km roll out and back, along the railway line on a 4wd track. The ride was not very hilly, so we reached the other end in about 40 minutes and turned back.
I felt I had the strength to take it, so I took a long, solid shift (thinking to wear the competition out) and then I planned to sit behind and breakaway on the next shift, with 4-5k to go, but we talked and agreed that we should just finish together.
At the end of the day, it was not really a race, it was a trial.
I felt quite broken after the long day. 6 hours of paddling, plus 1.5 hours in the saddle. Dinner -> shower -> sleep, was a quick resolution for us.
Day 2 - What can I say, my K1 ambitions disappeared at Ti-Trees. So I just set off for the paddle. This time I was in the 14thgrid of four (I think 55thoverall, including teams, K2 and K1s). The start was early, mine was at 7:14. The powerboats were going to start at 12:00 and the challenge now, was to get out of the rapids section so they are passing me on the flat water.
The paddle started with Ti-Trees, there were more rapids and fewer trees, but nothing really sticks in my memory. It all started at the 8km mark, where Emu Falls rapid was. Emu Falls is a grade 3 rapid and if you are going to give Avon Descent a go, I would recommend to check it out. The river bends multiple times, with narrow channels and multiple drops, which aren't a problem by themselves but create a challenge with those sharp bends.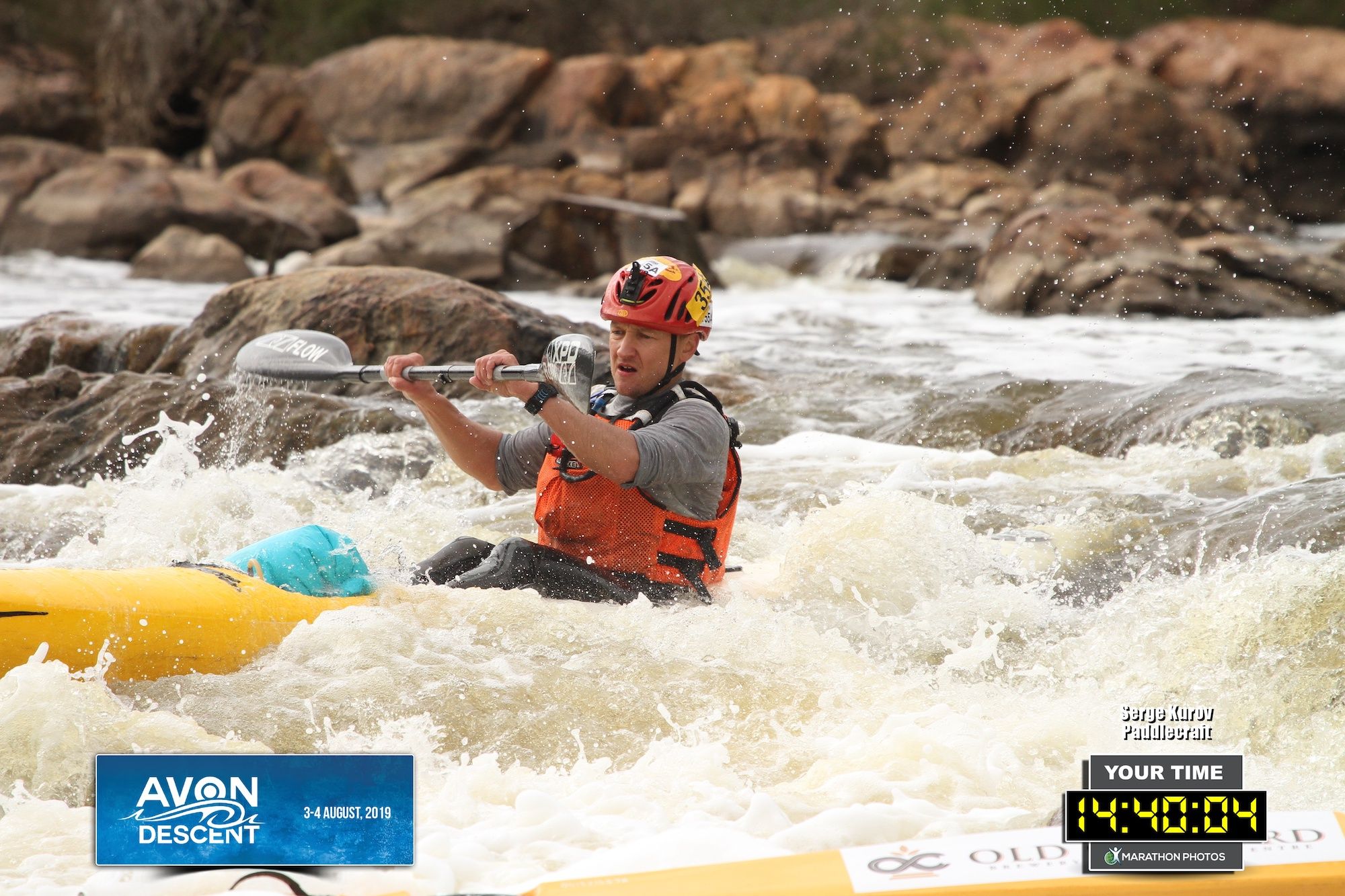 The last drop though, is quite significant and after a sharp bend of a narrow channel, you see a massive rock in front of you and two very narrow shoots to the left and right of it. I chose left and immediately realised this was a mistake. You can't change your mind there, so I committed to the narrow channel, which drops under another rock.
I ended up off the boat, jumping onto the rock, trying to fish my boat out. I wasn't successful, the current just took the boat and it was stuck under the rock and the bottom.
Lucky it wasn't me, I thought. I jumped off the rock, into the pool below. The rapid grabbed the boat and I tried to pull it from under the rock. No success, the current was pushing me away very hard, so I dropped the boat and hung on to the paddle. I jumped onto other rocks below and safety IRB drove up the rapid to get my boat out. Thank you, my heroes! I can continue!
The boat was damaged but looked like it still could go. The rudder was bent at a 45-degree angle to the left and after paddling about a kilometer, I stopped and bent it back. I noticed the boat was heavy – it was taking in water. I emptied it and could not see any obvious, big holes, so I kept going.
There were multiple, quite solid rapids. I got stuck in shallows a couple of times, but generally was quite successful navigating the rapids further downstream. I was losing time on flat sections, as my boat got heavy with the water it was taking in. I stopped once again at around the 20km mark, emptied the boat and also took my frogskin top off and put a light thermal on. The thermal was heaps better and I kept going.
I don't remember many more rapids, there were too many and some of them quite solid, grade 3+. I do remember Syd's Rapid. You would know it is approaching – the safety guy 200m ahead of it shows you to go left branch. As I know now, the right branch ends with a 3m waterfall. Not that I did not listen to the safety guy, I just asked John later.
There was a guy in front of me, so I gave him 5 seconds, I did not really want to get stuck because someone is stuck in front of me. You hear it long before you reach it, the river turns right and then you see it, right in front of you… it is probably some three meters drop, but more like a water slide, with the massive flow on top of massive boulders. I saw the line, took it and successfully got out of it. Grade 4 for real, on a nearly 6m long plastic ski – done. I was very proud of myself, there were heaps of people to cheer me and the other guys on, but I do not have a single picture.
So! If you are reading this and have picture #354 at Syd's (or Bells) please send it to me!
I was shaking a little bit. I thought this was the Bells rapid, as I did not know at that time that Syd's existed, so I thought I'd done the hardest rapid on the river. Not at all, the Bells was another few km's down the river.
The Bells main drop is under a footbridge and people cheering you on from it. I was that loser that fell in just in front of everyone when someone was talking me up on microphone over the crown. Just an unlucky rock on a very simple section. No worries, I jumped back in, put the power down the paddle and jumped off the Abbys.
The main drop is more like a waterfall, it is probably a little smaller than Syd's, but it is certainly not less powerful. Again, I was successful and the next corner, next turn, next drop – success. So I just passed another grade 4, Bells, without a swim. Wow!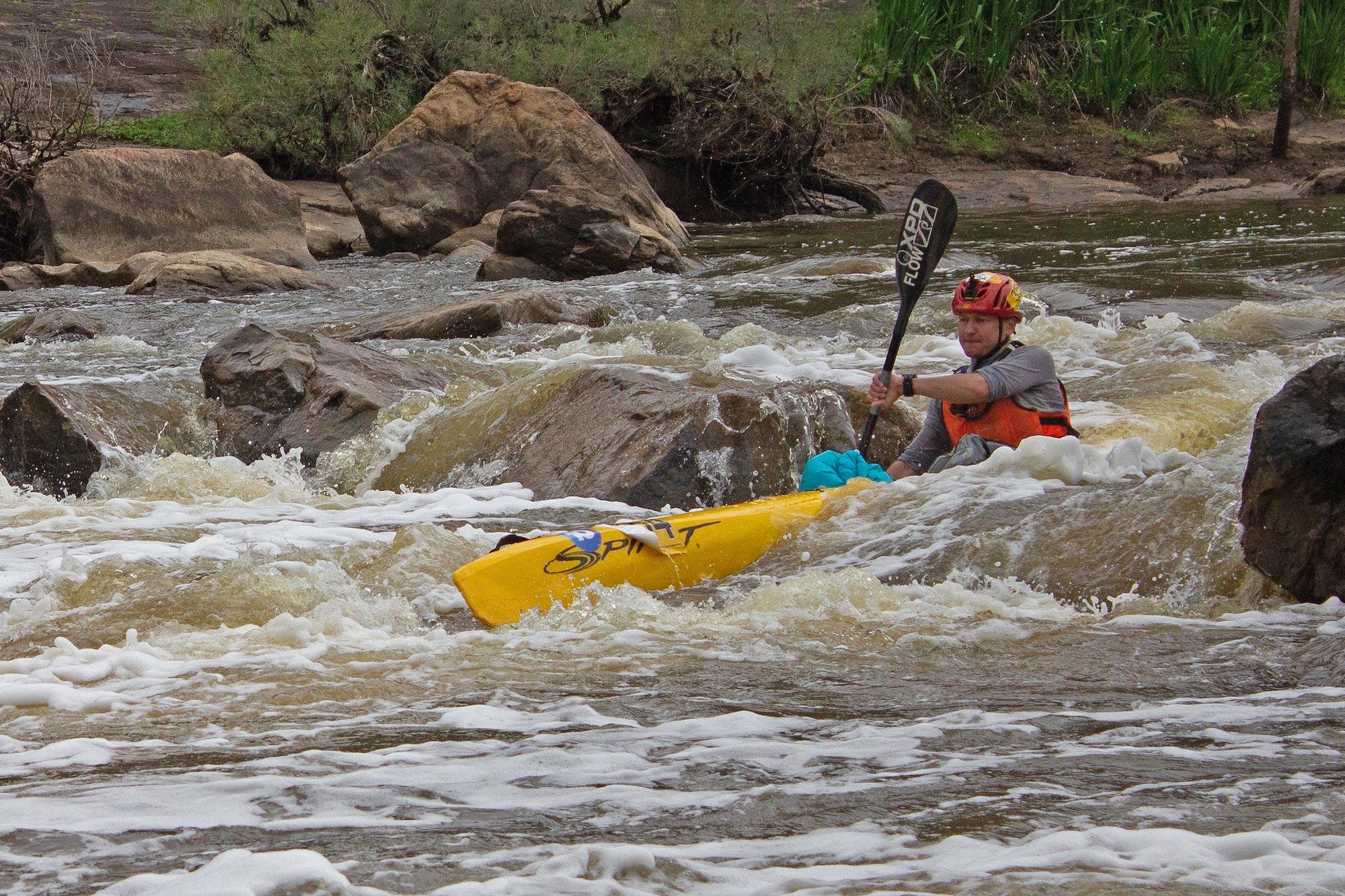 Don't say wow yet, there were a few more rapids to go and I took a swim somewhere in the Dogs Breakfast. I was getting tired and again picked a wrong line, but this time I tried to change it, got stuck, was washed off the boat and hit a couple of rocks with my bum.
This is the thing about white water when you're in your craft with your paddle and the craft is up, you are safe, but once you're off the craft, you're immediately in a tricky situation. Luckily, it ended up ok for me, I climbed back in and moved on. There were a few more rapids, but nothing I remember.
Our support crew, Anita and Ann-Maree, met me below the rapids, gave me some food and I was a happy camper. I felt quite strong, but funnily enough, people were passing me in plastic crafts and I could not stay on their wash with a sustainable pace. I noticed that the water line was very low and water started to get into the cockpit, even on flat water sections.
Aghhh, the water inside! I stopped, and this time it was literally almost full. I emptied it again, and it was a blast to paddle an empty craft. I started to catch those people that were passing me and felt really good. The last 15km went ok, I could not complain. I emptied the boat once again about 7km before the finish and came back happy, with bleeding hands, but they recovered after about half an hour.
I'd like to do it again, but I won't commit to it just yet. I'd like to try paddling K1, but I definitely need to up my skills and learn which rapids K1 paddlers should portage. This is important – all K1 paddlers know where to get off and what to portage. To do that you need to paddle the river a couple of times. Also, Ti-Trees is definitely something that would worry me. But hey, I'm always ready!
I finished 13th in ski and 55th overall, and I counted 22nd in across all single solo. 14:40:04 was my paddling time, long time but it was low water, remember!
Massive thanks to John Carrol, Kat Bulk, Ann-Marie Cunniffe, Anita MacCarthy, Steve, Sean Dunstan, Jarad Kohlar, Avon Descent Organisation, PeakAdventure and Adventure Junkie. More to come.
PS. Rapids in the pictures are not the big ones, they are just good pics I've sourced...