New
Event!
East
Gippsland
Adventure
Challenge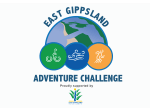 2-3 December 2017 multisporters, adventure racers and their families will head to Lakes Entrance, a premier adventure destination, to have a fun weekend of racing East Gippsland Adventure Challenge.
The full on schedule is prepared for all adventurers, keeping in mind weekend warriors, elite athletes and their precious ones.
Three events are on offer over two days:
Saturday: Multisport challenge consisted of 31 km mountain bike,16 km trail running, and 15 km kayaking. The event is open for individuals, Ar Duo teams and relay teams. The course is challenging and goes through some of the most spectacular spots of the Lakes Entrance. Start and finish are at the same spot, one separate transition area for the start of run and finish MTB, otherwise logistic is pretty straight forward. Mountain bike course includes dedicated trails, paddle is on the lake but don't be mistaken it can get rough and serious tides are on; run leg is a real trail with some rough off road components. Support crew is welcome to help but not compulsory.
Later on Saturday afternoon Kids race will start. Total of 1 km running with obstacles and orienteering like challenges with specially designed for kids map, culminated with short paddle with a parent on board. Would not leave any child disappointed, great introduction to the sport for kids 6-13 years old.
On Sunday the O- Duathlon race is prepared for those who did not have enough on Saturday and want more, or if racing without a map is not an option. Colquhoun State forest with dedicated mountain bike trails will be transformed into the ultimate adventure ground. Maps will be given at the start line and you plan your route between checkpoints while you go. The first leg is run, followed by mountain bike and then one more run. 1,40-3,5 hours of racing everyone should be prepared for depending on your speed and navigational abilities. Suitable for all levels as far as you can read street directions. Solo and team categories are available.
Sounds like a fun? Then don't wait and register on Eastgippslandchalleng.com.au and make a weekend out of it.