X-Marathon
report
on
Sleepmonsters!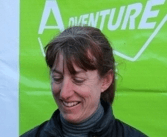 Adventure Junkie
X-Marathon
adventure race Victoria  17/18 December, 2011
(published on
Sleepmonsters.com >>>
)
The new kids on the block in Australian adventure race organisation, Victorian-based Adventure Junkie, followed up from their winter one day race with their first 24hr event. Maria Plyashechko and Sergey Kurov are two very experienced adventure racers from Russia who have relocated to Melbourne. Maria also has considerable event planning experience from Europe, and they bring some fresh ideas to the Australian AR scene. For their X-Marathon weekend there was a choice of 4hr Lite course, 12hr Adventure course or 24hr Pro course. The latter attracted a small field but five of the 12 teams had members who were in top 10 teams from the recent World Champs held in Tasmania.
The Pro course began with a brain teaser. Teams had to solve 7 puzzles with a navigation element and only once they had the correct total score could they move onto the next stage. The kayak stage was on Lake Nillahcootie near Benalla. The trek and bike stages in nearby Mt Samaria National Park and state forests contained steep country with considerable opportunity for off-track navigational challenge.
Team Sutmap and Team Blackheart problem solved the fastest and hit the water first with Team Peak Adventure not far behind. The order quickly changed with Peak Adventure's kayak speed putting them in the lead by the end of the stage. Team DNF and Team Thule were in touch with the leaders at the start of the stage 3 trek but the Thule Adventure team (current World Champions) and another strong Aussie team led by Blackheart team member had the added challenge of misinterpreted instructions and went to an extra kayak checkpoint by mistake. This error lead to a gap from the lead teams that they were never able to bridge.
The trek was mostly off track and there were some big climbs (with spectacular views) with some patches of thick vegetation to negotiate. Careful navigation and good route finding, plus being comfortable up-close and friendly with the local spiders were necessary. In the midday heat, the less fit and experienced teams found the stage very tiring and with plenty more challenge ahead a few decided retirement was their best option.
Stage 4 was on bike through some beautiful forest roads. Part way through the course was a 17km "road book" challenge, a common feature of Adventure Junkie races thus far. Teams used a set of instruction and distance measurement to find the way through. Stage 5 was the final trek – a loop course with 6 checkpoints again requiring careful navigation and some patches of bush bashing. To keep things interesting one checkpoint required a climbing challenge appropriately called the "Dirty Santa" challenge. It involved a short ascent up a granite 'chimney'. 
The final short bike leg was mostly downhill and fast in contrast to what teams had experienced before. The winning time was expected to be 13hrs, however the heat and steep terrain took its toll on teams and the finish time of 15hrs 10mins by Peak Adventure was considered an incredible achievement. Jarad Kohlar is the current Australian multisport champion and his team hit the course hard from the outset. Blackheart (Rob Preston and Kathryn Preston) came second only 30mins later and won the premier mixed category. 
A tough race to end a big year for many of the participating regular adventure races. The Adventure Junkie team have proved themselves on two excellent events in 2011. They have a program of even more races in 2012 which will no doubt facilitate the growth of the sport in Victoria.
Thorlene Egerton (Team Sutmap)