Åre
Extreme
Challenge
experience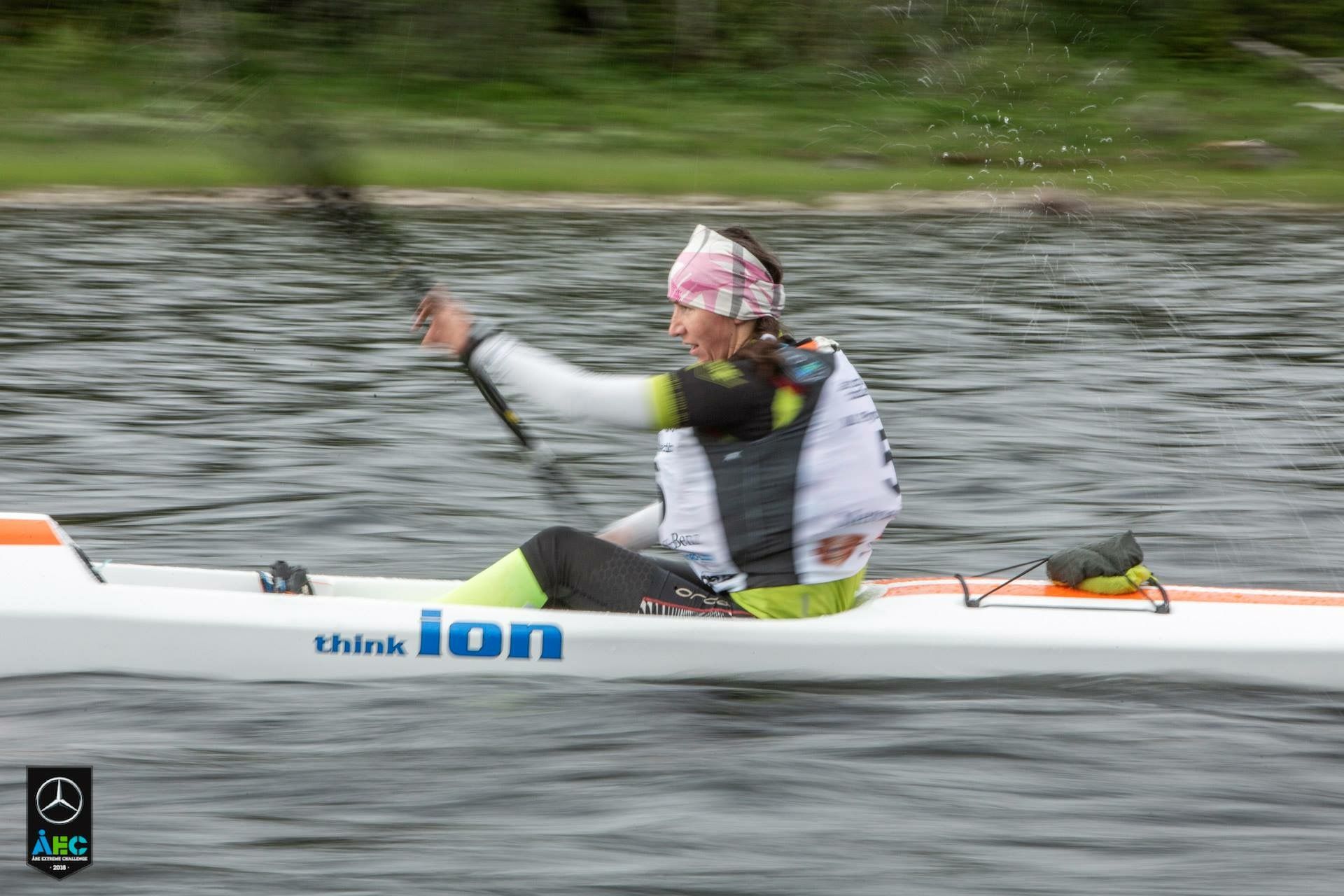 We were standing on a shore line as long as we could trying to avoid going into the freezing waters of Åresjönlake. This is a classic moment when I feel sorry for doing all these races, especially looking into the eyes of my child leaving him with someone else (lucky it was my mom this time). However, there was not much time for reflection, so I jumped into the boat and headed off for a quick warm up.
Background: Åre Extreme Challenge is Scandinavia's first and oldest multisport adventure race and the Open European Championship in Multisport. It is hold in the stunning ski resort Åre. Tourism there started in 1882 and in 2008 Åre was listed in top 10 world ski resorts. Few MTB races of world level were held there over the years.
The race has been around since 1997 and attracts all strongest European multisport athletes and some top NZ people such as Richard Usher and Sam Clark. This year not a stranger to word multisport scene Alex Hunt put his name into the list too finishing second. The race has all what adventure/multisport racers want: stunning tough course, great organisation and top competition.
The course consists of three legs: 25 km river paddle, 15 km mountain run and 30 km mountain bike ride. This is a theory. Other dry facts: 1000 m elevation gain on a run and 750 gain of mtb, lead time around 5 hours, finish closed in 10 hours.
All the above sounded like a reason to fill up a registration form.
I am not very good at just training, so entering competitive events seems to be a good strategy to make me trying a little bit harder than I normally do with my exercising routine over the last 13 years of racing just for fun.
We have arrived 2 days prior the race, which seemed to be plenty of time. However since we have got a young addition to our family time goes fast way too quickly.
Åre is located 7 hours non-stop drive from Stockholm, where I got by ferry from Tallin. Spirit of Tasmania has never been my favourite, so I was pleasantly surprised by a comfort of across Baltic sail. Another hurdle was to fetch Serge. He arrived a bit earlier and made himself comfortable at our old Melbourne/Russian friends in Stockholm. After numerous cups of tea and coffee we finally left and hit the road towards Åre, not quite per my schedule but Russian hospitality can't be beaten by any schedule.
White nights are driving me insane every time I'm facing them when body whispering you to sleep but optic nerves reject melatonin production. It worked all right for the arrival to our accommodation at midnight, sun was still up, time looked weird on my phone and wall clock in our apartment was thoughtfully out of order.
Next morning met us with shocking cold weather and a fact that we didn't get an access to the second boat worked quite well for skipping a paddling and going for a walk on a run course instead. Not sure what I was thinking about but all variety of clothes I packed for that trip was mostly designed for temperatures over 20 degrees as minimum. Run started by visiting a shop and getting a full water/wind proof set of cloths, which looked like compulsory items for being outside in ordinary Swedish summer afternoon.
The next day was spent sorting out boats, getting bikes together, listening to the briefing and going to bed early, even though race start was on comfortable 8 AM.
Start horn came surprisingly quickly and the race was on . This year we were unfortunate with low water level and 25 km river paddle became 18 km lake paddle consisted of 2 laps with upwind/downwind sections and portage in between. The lake is beautiful, and I can only imagine how stunning river would be. This was a good thought about the river when I was trying to keep all washes I could sit on. With all my respect to Swedish multisport scene, diamond shape wash riding did not look like a common practice, and my attempts to be on a side wash were met by someone screaming on me to move away while I was still on a distance enough for one more boat.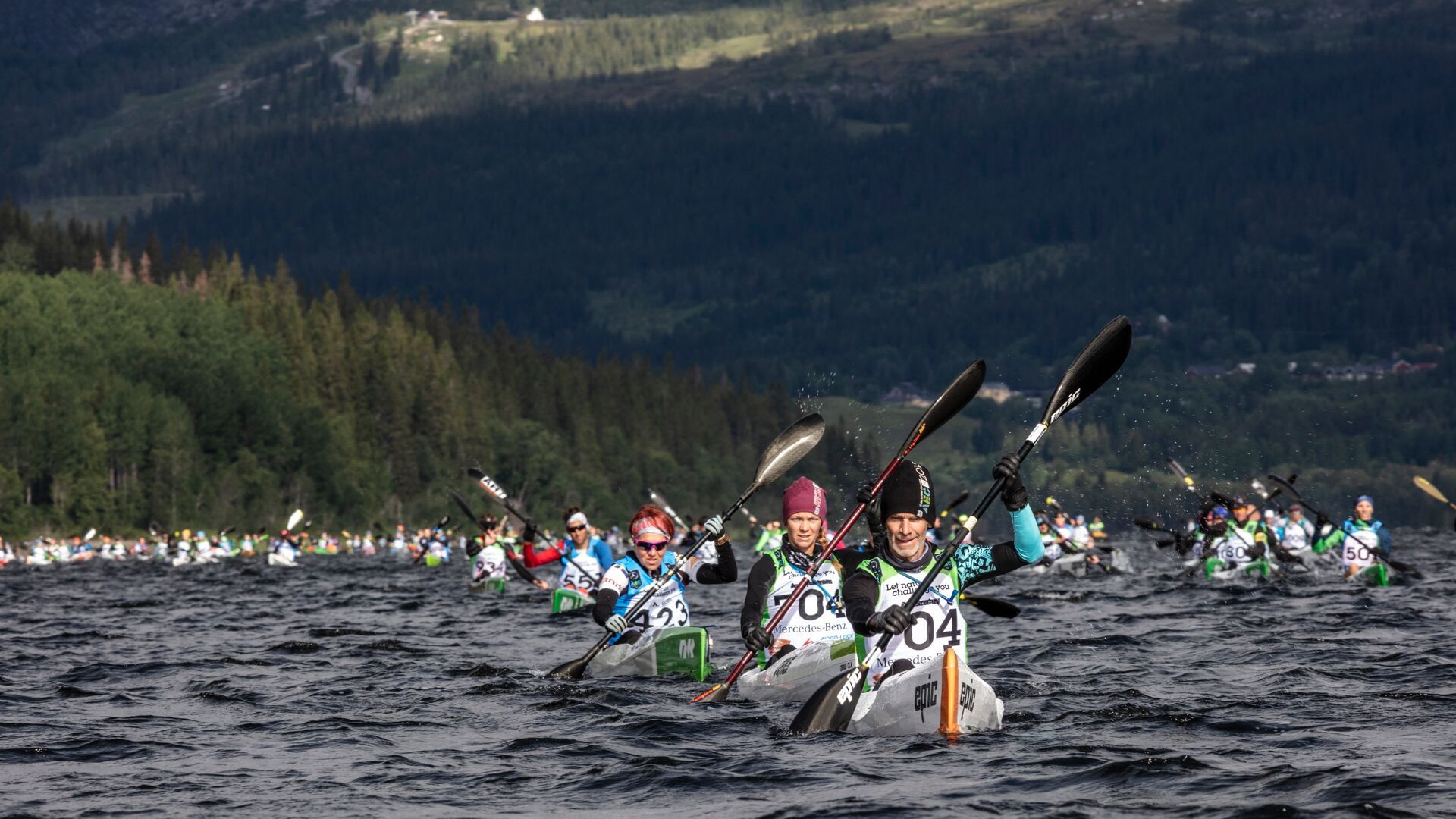 I have chosen easy to get in - get out but heavy boat option but could not get it moving at all, each strokes went to nowhere.. Over the last years paddle became my strongest discipline I thought. I am laughing over my expectations now- days after the race but was quite disappointed at the time. With having nothing to put into the stroke I was barely moving with my normal training speed. The good part of it I had got enough time to reflect what went wrong over the training stage during the paddle.
Everything comes to the end, even 2 hours in the boat. I came off the water with two other girls on 4-6thposition being 11 minutes behind the lead girl. I got over it by the finish of 2ndhour and just tried to focus on getting through TA as quickly as possible. I stuck a bit getting all gear off by myself asking someone else's assistants for help. Support crew is an integral part of a racing team -to help you to get through TAs much smoother but I and Serge didn't pay enough attention to this part as none of us was going to win it, so getting out of TA on 5thplace was ok for me.
The water and the wind were freezing and I would imagine there were no person who could feel their arms and feet after that paddle and definitely there were no one happier than me to get out of that boat and head towards the climb on a run to warm up.
The run by all accounts was a highlight. The first kilometre or so we ran to the Åre centre on a bitumen where I hit my record speed for the last 15 years probably and then we climbed for about 7 km up to the Åreskutan mountain gaining 1080m, first on walking track with some wet patches, then going higher tree line and hitting the steepest rocky section with some small snow fields. I passed few people there and got into the third position after the climb but was caught by few others, mostly teams. The views of Åre and the valley and lake were incredible, memories of recent paddling fail were vanished, I really enjoyed myself and felt just like I was back into my best climbing abilities. Downhill delivered views of the next valley with similar gorgeous colours and pattern- snow, rocks, walking path, bush and last 3 km of a 4wd road with view of Serge dragging himself through it all. First, I thought it was a mirage, as normally he's heaps faster runner than I but when I caught him up he appeared to be in struggle town complaining of being overdressed. I suggested him to get few layers off as he did and left me quickly behind afterwards.
This descent was something I was training the most – 1000m elevation drop can get rough on quads. Enjoying myself way too much, I got caught into a comfortable pace and really slowed down on the last 3 km of the road and got 1,5 minute behind 3d place. Coming to transition area was great - to see a lot of people and a lot of bikes and Serge still there heading for a ride. Luckily organisers had a thoughtful option to deliver your gear around, so my bike was waiting where it should have been. You wouldn't get a treat of having all unpacked and prepared but still better than to be stressed out to drive all by yourself.
The bike leg was not quite what I was expecting again. We rode last 3 km a day before on flowing dedicated single track, however, previous 27 km were almost a mystery. The first couple of kilometres we were taken through some villages, veering between houses, then got into the bush, where walking type of track went through number of bogs over roots and through numerous creeks. This was not the most welcomed part, but it was too late to complain and I had just to drag by bike through occasionally. I had done it ages ago riding Russian MTB events when you carry your bike or spin on walking pace through the bogs but got spoiled living in Australia over the last 8 years riding stiff surface and nearly forgotten the hint- either ride or run, don't waste the time getting on and off the bike.
Legs were not particularly fresh, so kilometres did not go quickly and even flat sections felt like a constant uphill. After few road crossing with cheering crowds I made my way to the top of something with Åre resort in the bottom. It felt like last downhill was pretty close although watch was still displaying few km to go.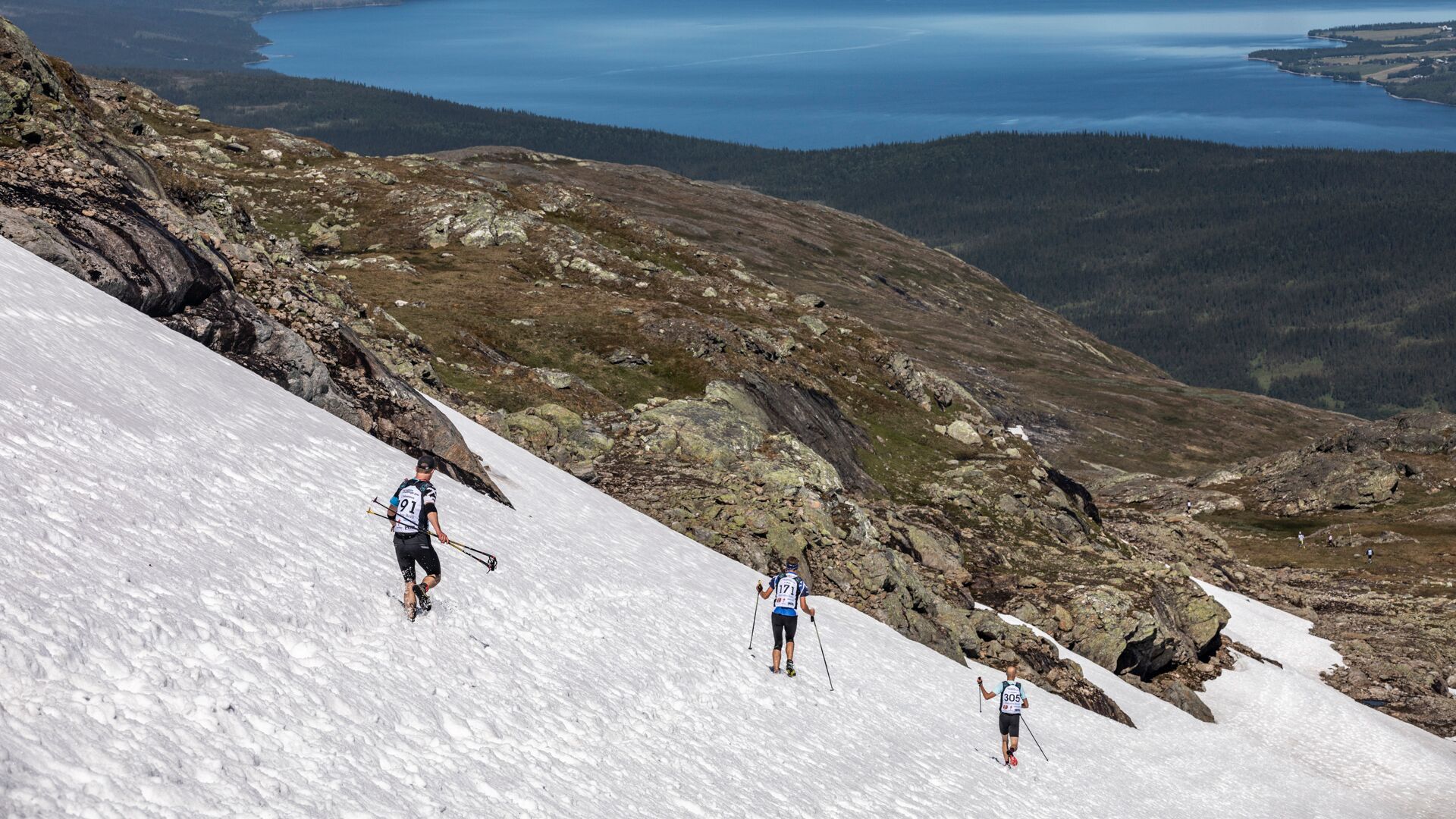 Despite my positive attitude it was actually still few kilometres to go and few steep climbs to negotiate. Also here was Serge again cramping on uphill. I did not feel like I was dead tired just did not have any power in the legs to accelerate and as no competition was approaching just dragged myself through along with him. Finally, I recognised the turn to the last downhill which we were practicing before, few twists and turns and off we go down to the town centre. Seeing a finish line was a relief and quite sad from other side - the race was done. I wasn't really interested in my final standing, knowing I definitely did not make a podium. Sun was out, weather finally was smiling to us, race beer was great, and life was beautiful. Organisers clearly put a lot of efforts to make an awesome weekend for all of us and they definitely succeeded with it, even the weather was up to the highest standards.
I have couple of thoughts where I could have done better, but just as always, so happy with what I have got. My personal goal was to make top 5 and I knew I was around there. Final results said I ended up 4th, which is a little bit disappointing, but satisfactory enough. What can you do - just train better next time if there is a next time.
Absolutely enjoyed all aspects of the race and would higly reccommend to put this event into the bucket list, especially if you are still reading this:)