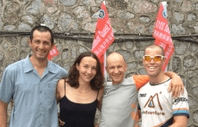 26-28 of April Team Peak Adventure Junkie is racing in Chinese Baise Leye Outdoor Quest.
Team consists of Jarad Kohlar, Ian Franzke, Serge Kurov and Maria Plyashechko.
It's three days stage race through the mountainous and quite picturesque region of Guahgxi Province.
Course is divided into 3 stages, the total distance is 220 km.
Disciplines include running, mountain biking, kayaking, rope related activities (abseil or zip line), some puzzle solving and Chinese national games.
There is other very competitive Australian team Moxie Gear/ Nuun racing: Deanna Blegg, Darren Clarke, Tim Boote and Alex Hunt.
Besides, overall field looks good: Thule team (France, NZ, Sweden), FJS (competitive and very experienced Swedish team), Latvian team Ebike.lv, French team Merrell VP, traditionally strong Chinese teams.
Before the race | Day 1 | Day 2 | Day 3