I
am
an
Adventure
Junkie
now!
-
by
Scott
Knabel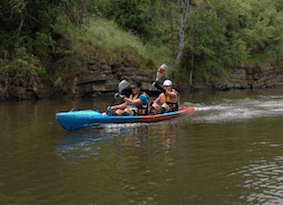 It's 07:00 on a cold and wet Sunday morning in November 2013 and I found myself sitting in my car at Brimbank Park in Keilor, a north western suburb of Melbourne. I am feeling overwhelmed and nervous thinking, as I take in my surroundings, that I am in way over my head, that I am out of my depth, I am outclassed, out equipped and I'm about to be exposed as the fraud and pretender that I really am.
I am fighting that voice inside my head that is screaming at me that I don't belong, that I'm not good enough, don't know what I am doing and that I don't have the right or what it takes to be a part of that which lies before me this day.
Adventure Racing, in particular Mark Burnett's Eco Challenge is the reason I run today.
When I first saw Eco Challenge Australia on TV sometime in the late 90′s or early 2000s, something stirred within me, something raw and natural came to life, emotions were awakened and life seemed to take on new meaning, it's purpose made clear.
Adventure! Life was to be an adventure, it was to be lived, enjoyed, explored and conquered!
Unfortunately all to soon that newly birthed fire burning within me for adventure was soon smothered out by long established habits and the loudness and busyness of life, luckily for me it wasn't snuffed out completely and a spark lived on.
That spark is what lead me to start running in March 2012, it is that spark that eventually lead me to my first ever adventure race. The Adventure Junkie Sprint Series race #5, a suitable for begineers event at Brimbank Park in Keilor, on Sunday November 24, 2013.
I found my way to this event after making a comment on a Facebook post sharing my thoughts that with no kayaking experience or mountain bike navigation skills I doubted that I qualified as a beginner, but hopefully one day I'll get to give it a try. In response to my comment I received an invitation from a well known adventure race/multi sport/endurance athlete, Jarad Kohlar (http://www.jaradkohlar.com/) from Peak Adventure, (http://www.peakadventure.com.au/store/index.asp), offering to show me the ropes and encouraging me to give it a try. Gee, let's think about this for a minute, I would get to spend a Sunday morning learning how to adventure race in the midst of an actual event with a well known, highly experienced athlete as a team mate and on the day coach, yeah, well, obviously I didn't have to think to hard or long about it!
Jarad in the end couldn't make it but he arranged a more than qualified and suitable replacement in James Pretto (http://www.peakadventure.com.au/store/index.asp), Jarad's regular team mate and an equally talented, experienced and gifted athlete.
So that's how it came to be that at 07:00 on that cold and wet Sunday morning in November 2013 feeling inadequate and underprepared I found myself walking towards the event centre of my first ever adventure race, hoping and praying that things would work out and that I wouldn't make an idiot of myself, James or anyone else for that matter.
Adventure racing is a combination various "legs" or stages made up of running, including cross country, trail and road depending on your location, mountain bike riding, kayaking or paddling if you prefer, various types of navigation tasks, and more.
It is performed in teams of 2 or more people that have to race together to complete the designated tasks in the quickest time possible. For more info; http://en.wikipedia.org/wiki/Adventure_racing
The idea is to gather various "checkpoints" in the quickest possible time while completing the various legs. Depending on the event you may be required to gather the checkpoints in a specific or random manner. Checkpoints are marked with a flag and have an electronic tag attached to register when you have "checked in". That's AR (adventure racing) speak for pushing your plastic timing band against the remote garage door opener looking thing that is tied to the checkpoint flag!
Today's event was a short course, between 2.5 and 5 or so hours, sprint event. It was made up of 6 legs, 5 compulsory for all teams and the 6th leg open to those teams that completed the first 5 legs within 3 hours.
The legs were made up of the following;

1 – Prologue (all teams completed this stage first) – a short section of adventure orienterring designed to seperate the teams. Once completed the teams could choose which order they would prefer to complete the following 4 legs in.

2 – Running /orienteering, on road and cross country.

3 – Kayaking

4 – MTB (mountain bike) using a road book, think printed gps instructions and orienteering, finding checkpoints in random order following a park map.

5 – Adventure orienteering, using satelite images to find one checkpoint which then lead to the next checkpoint until all checkpoints have been collected.
The final leg for those teams completing the first 5 within the cut off time was;

6 – Advanced Running – navigation using contour maps and cross country running.
A fair effort alright and one that could easily explain my somewhat nervous and anxious feelings prior to checking in and taking on this, the latest chapter of my life changing quest.
As I approached the event centre to check in, having never met James I had know idea who he was or what he looked like. Luckily I was spotted by Maria from Adventure Junkie, whom I had also never met, she in turn introduced me to James. Once we were registered James talked me through the basics, how to attach and use the timing chips, how each of the stages/legs worked, he explained and helped me with what I needed to do prior to the event start.
Before long we were on the start line with the other teams about to take part in the prologue leg, a mass start of all the teams running to a collection point a short distance from the start area. It was at this collection point that we received our first map and decided which order to collect the random checkpoints in.
At the end of each leg we had to return to the event centre to get the maps for the following leg.
One of the great things about this event was that once we completed the prologue stage we got to choose the order in which we completed legs 2 through 5, with leg 6, the advanced running leg being the compulsory last stage.
James and I decided that while we were on our legs during the prologue stage we may as well get the running orienteering out of the way, then hit up the bikes, the kayak and then the adventure orienteering.
If time permitted we would then take on the advanced running stage to finish.
James showed amazing patience through it all, walk, run or talk it didn't seem to matter, he was happy to be sharing his knowledge, experience and the morning doing something he obviously loved, even if it wasn't at his usual high standard.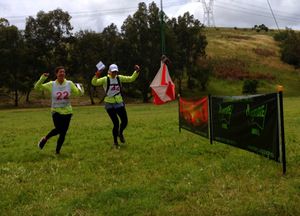 We didn't crash the bikes, although my chain came off at one stage and at another I had to walk up one monster of a hill, but sssshhhh don't tell anyone! I managed to provide some laughs during the bike leg with my old break pads getting a good work out on some of the downhills. At one point I believe James may have feared for my life as I persistantly yelled at my bike to stop, eventually it did locking up the brakes in the process and sliding 20 metres past my intended target.
James explained the various maps and how to read them, gave plenty of encouragement and assistance, both to myself and other teams. In fact it wasn't for him stopping and assisting another rider replace his bike inner tube they may not have finished and I wouldn't have been able to do the same to my bike the next day!
So, we didn't crash the bikes, sink the kayak, or anything to drastic, although James did take a spill during the last leg which resulted in a puncture wound in the palm of his left hand. Hopefully it will heal up okay and not cause him any drama as he takes part in the Swisse Mark Webber Tasmania Challenge the week following our adventure at Brimbank Park.
In the end we ran, walked, biked, paddled, scrambled, slipped, slided, climbed, laughed and talked our way through all 6 legs! It was an amazing day, absolutely brilliant and the best fun and the most amazing thing I have ever done.
All up we covered around 27.5 kilometres, roughly 11 on foot, 13 on the bike and the remaineder in the kayak. Yes, James did manage to teach me how to not only get into and out of a kayak but how to paddle one as well, and although that is still a work in progress, it is one in which I look forward to continuing in the future.
Together we ran on paths, lawns and through fields of knee high grass, we scrambled up and down hills and rock outcropings, we rode in the rain and carried our bikes up stairs, we paddled on land and in the water.
Along the way I learnt an incredible amount about the sport that has once again captured my heart and breathed new hope and adventure into my life.
To top off an absolutely life changing, adventure filled day James and I managed a top 10 finish, coming in team number 7 overall!
I can't thanks James enough for his patience and willingness to share his knowledge and experience with me. Thanks also has to go to Jarad for the encouragement to get out there and have a go. Thank you also Sergey and Maria from Adventure Junkie for organising such amazing events I can't wait for the next one!
Finally, the biggest thanks must go to my wife Sarah and son Jordan who support and encourage me in pursuing my crazy adventures.
If you long for adventure or have ever thought about trying an adventure race do yourself a favour and check out Adventure Junkie, Sergey and Maria do an amazing job of catering these events for the experienced and beginner alike and if I can do them anyone can!
Adventure is good for you, so get out there and grab yourself some!
Originally posted by Scott Knabel 1 Nov 2013, reproduced with permission:
http://scottsultraquest.wordpress.com/2013/11/01/im-an-adventure-junkie-now/