All updates are by Chilean time, -14 hours to Melbourne time. Refer to the race overview Map below for CP
locations >>>
Sat 25 Feb:
Congratulations to team Red Fox Gore-Tex with successful finish and 9th place in Patagonia Expedition Race 2012!
Maria: "
Here we go! One day later than planned cruise boat loaded with finishers reached Punta Arenas. It's really hard to imagine how far we were- travelling from the finish took us nearly two days. Race is absolutely amazing. If you, guys, still do not have plans for the next February strongly recommended! The best race I've ever done! Absolutely exited.
"
Read more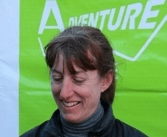 Adventure Junkie
X-Marathon
adventure race Victoria  17/18 December, 2011
(published on
Sleepmonsters.com >>>
)
The new kids on the block in Australian adventure race organisation, Victorian-based Adventure Junkie, followed up from their winter one day race with their first 24hr event. Maria Plyashechko and Sergey Kurov are two very experienced adventure racers from Russia who have relocated to Melbourne. Maria also has considerable event planning experience from Europe, and they bring some fresh ideas to the Australian AR scene. For their X-Marathon weekend there was a choice of 4hr Lite course, 12hr Adventure course or 24hr Pro course. The latter attracted a small field but five of the 12 teams had members who were in top 10 teams from the recent World Champs held in Tasmania.
Read more
It was an epic weekend for everyone raced X-Marathon 2011. Course was really challenging even for experienced racers.
Overall Pro course winners are Jarad Kohlar and James Pretto (team PeakAdventure) who absolutely smashed it from the very beginning. They were closely followed by another elite team Blackheart with (Rob Preston and Kathryn Ewels). Thule Adventure team (Jacky Boisset and Myriam Guillot) finished third.
Lite course winners are ladies from Micky's Fitness- Deanna Blegg, one of the strongest Australian adventure racers, and Erica Marr, first time racer.
Team Iggle Piggle and Macca Pacca with Joel Deans and Dean Murray beat everyone in Adventure course category. Well done to all other teams!
Final Results and Splits are available.
Photos are available here>>>
X-Marathon final instructions are now available. There were a few changes in equipment list highlighted below:
- It is mandatory to have for safety reasons to have Mobile phone (Telstra) in waterproof bag with full charge switched on during the race per team
- It is essential to have good waterproof bike computer, for Pro course it is also recommended to have two good bike computers per team for redundancy
- For everyone it is highly recommended to have pencil and ruler for Adventure Rogaine.
| | |
| --- | --- |
| | Q: What happen if team finished after Cut-off time? |
A: Cut-off time is 24, 12, 4 hours for Pro, Adventure and Lite courses respectively. Teams finishing late will be penalised. 4 extra minutes for every started minute after Cut-off. It means that if you doing Lite course for example and you come up to finish 4 minutes 30 seconds later than 4 hours after the race start your result will be 4:24:30. Teams finishing more than thirty minutes late will be disqualified.
Q: Will it be any cut-off times in the middle of the course?
A: Yes, it will be cut-off times for certain stages outlined at the course description distributed along with maps and other race info. These cut-offs mean you will go short course. If short course is not described in Race documents distributed at the start, officials will let you know which check points to skip.
Q: Can one of our team do not paddle or run or ride?
A: No.Team should stay together along the entire course.
Read more
Winter Challenge 2011 is over, but this is just a beginning!
Race is over, all teams crossed the finish line. Final results are now published and available here >>>
Photos are available >>> and video is coming very shortly.
Thanks everyone for coming and making this event happened!!!
Read more
8-hour Winter Challenge - The Race That Met Expectations...
Rushworth and Waranga Basin was the location of the 8-hour Winter Challenge organised by new Melbourne-based adventure race company "Adventure Junkie" - Maria and Serge. Expectations of the race were set high with promised electronic timing and checkpoints placed in correct positions and………….. YES they delivered.
The maps were accurate and with added touches including pre-lamination of the larger scale map for the kayak stage and two sets of every map per team, competitors enjoyed the navigation as well as the riding/biking/kayaking in a beautiful part of country Victoria.
The pace was quick from the onset with a 12km paddle via three checkpoints for those on the Pro course.
Read more

Melbourne based
PeakAdventure
company happy to provide a range of surf-skis both singles and doubles for Winter Challenge 2011!
This is an awesome package 20$ only for surf-ski, paddle, lifejacket and transportation to the start venue. Stable and relatively fast Finn Endorfinn skis are available for hire to suit beginners; confident paddlers also have wide choice of skis.
Please refer directly to our Peakadventure.com.au partner site to
book
suitable ski.
Read more